Direware T-95 Flipper, Titanium Frame, Carbon Fiber Inlays, Satin M390 Blade (SOLD)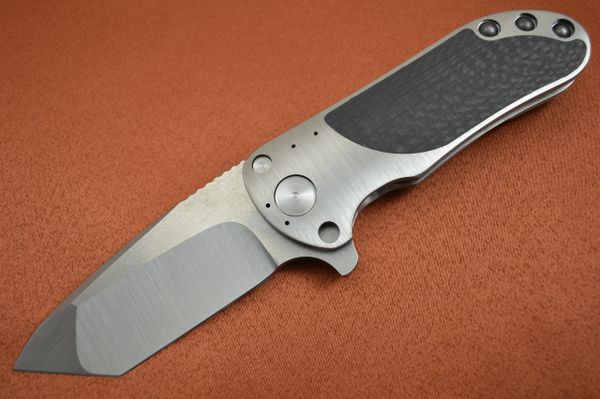 Direware T-95 Flipper, Titanium Frame, Carbon Fiber Inlays, Satin M390 Blade (SOLD)
Direware Custom Knives are some of the finest, overbuilt tactical folders.  They are built like a tank, yet display outstanding fit and finish, and flawless performance.  The flipping action is smooth as silk, they lock up like a bank vault, and the frame-lock is easy to release.  Direware uses only the best materials, superior engineering methods, and have gone through extensive testing by a former special operations team member.  Windy City Knives is privileged to be able to offer this knife direct from Direware.
This is one of the newest models from Direware, the frame-lock T-95 flipper.  It features a full titanium satin finish frame with a double sided bolster, and Carbon Fiber inlays on both sides.  The blade is satin finished M390, with tumbled flats.  The blade is aggressively ground into a tanto-shape with a dropped point.  It also has a satin finished titanium backspacer.  The knife flips effortlessly, locks-up tight, has a strong detent, and excellent blade seating.  The knife comes in the original box provided by Direware, as well as the mesh sleeve for storage protection.
Condition:  Brand New from the Maker.
•           Overall length:  8 1/8"
•           Blade length:    3 5/8"
•           Closed length:  4 1/2"