DoubleStar Wrath CrashHawk by Filo BladeWorks, Crash Axe Tomahawk Combo (SOLD)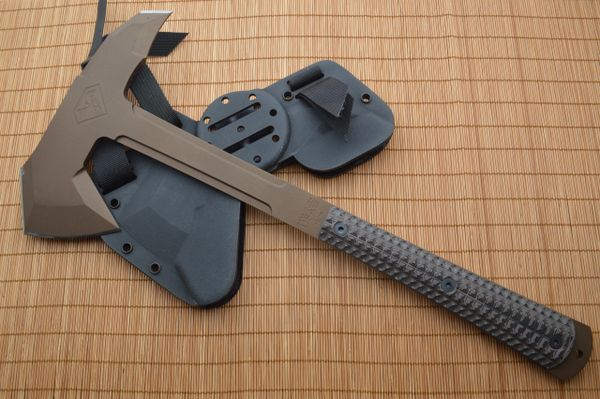 DoubleStar Wrath CrashHawk by Filo BladeWorks, Crash Axe Tomahawk Combo (SOLD)
DoubleStar Corp. is a manufacturer of high-quality, US-made AR components, rifles and pistols.  The Wrath CrashHawk is their first edged weapon that brings the best elements of a crash axe and tomahawk together in the truly modern tool.  The Wrath was purpose-built, combining the close proximity weapon, chopping capability of a crash axe with the multi-use functionality of a tomahawk from prying to piercing, splitting and breaching.  The Wrath was designed by martial arts practitioner and weapon designer, Robert H. Cabrera of Filo Bladeworks.
The face and beard of the Wrath have the power and stroke to cut the A-pillar out of a full-size car and still maintain surgical precision in the proper hands.  Utilizing a scalloped spike, the Wrath increases penetration with the same slicing effects of serration and will go right though most sheet metals with ease.  Cabrera custom designed the G-10 handle material and texture to give the right amount of retention without being too aggressive on the hands.  The axe is made from S7 tool steel.  AISI S7 tool steel is a shock-resisting steel with the highest hardenability and elevated temperature softening resistance of the S-series steels.  Due to these properties, S7 material is popular in shock-resistant applications.  It is way beyond bullet-proof – the perfect steel for the CrashHawk.
The CrashHawk includes a Kydex blade cover with loop straps.  It measures approximately 16 ½" in overall length, the axe head is approximately 8" across and it weighs 2 pounds.  There are a number of cutting edges on the CrashHawk.  The cutting edge between the toe and heel is angled, and measures 2" on top part and 3" on the bottom part.  This CrashHawk is previously owned and in excellent condition.  It has never been used, carried or sharpened.  Of note is a small rub near the toe, from insertion into the Kydex cover.  This is the tool you didn't know you needed, until you need it!
Condition:  Previously owned.  Excellent
                    Never used, carried, or sharpened.
Overall length:       16 1/2"

Blade length:          5" (total cutting edge)
Axe Head length:   4"