Duane Dwyer SMF Custom Folding Knife, U.S.A. Flag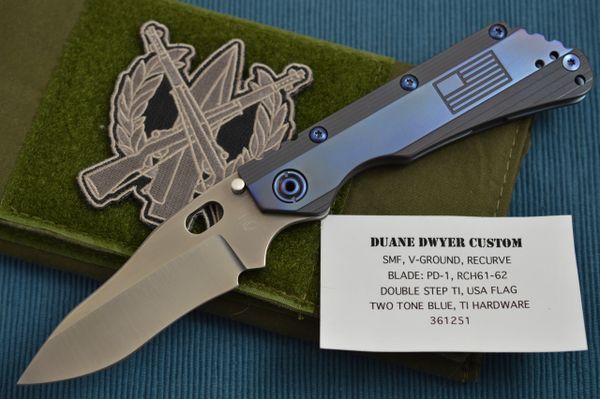 Duane Dwyer SMF Custom Folding Knife, U.S.A. Flag
This Duane Dwyer Custom frame-lock SMF features a V Ground, recurve blade made of PD-1 steel with a Rockwell Hardness of RCH61-62.  The frame is "double step" titanium, with the U.S.A. Flag engraved on the presentation side of the handle.  Both sides of the frame are two-tone Blue.  The custom hardware is all titanium.  The blade is marked "Dwyer" on the lock side, and "PD-1" on the presentation side.  The blade opens easily using your thumb in the oval hole, locks up solid, and the blade sits centered in the frame when closed.  There's a tad bit of lock stick, but the bar releases easily.  This knife was previously owned.  The knife is in essentially new condition.  I'll call it near mint, because it did not come directly from Duane.  It comes in a large OD Green Velcro closure pouch with a Strider logo patch on the outside Velcro, along with the Duane Dwyer Custom Specification / Certificate Card.

Condition: 
Previously owned, Near Mint
                    Never used, carried or sharpened
Overall length:    9"

Blade length:      4"

Closed length:    5"