Dwaine Carrillo AIRKAT APACHE 11, Tactical Fixed Blade, Leather Sheath (SOLD)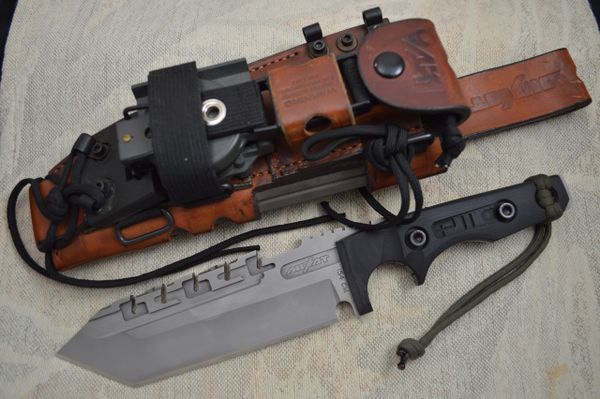 Dwaine Carrillo AIRKAT APACHE 11, Tactical Fixed Blade, Leather Sheath (SOLD)
This is Dwaine Carrillo's AIRKAT APACHE 11. The APACHE 11 has a 1/4" thick clip point tanto-shaped blade of 154 CM stainless. The grips are contoured Black G10, with a Paracord lanyard. The sheath is a deluxe brown leather Survivor Rig that includes a magnesium fire starter, a built-in ceramic sharpening rod, a military-style Lensatic compass, and black Paracord. The sheath is stamped "UKON". It also carries a WARNING - This Rig Intended For Professional Use Only. This knife has been previously owned. It is in near mint condition, with some very minor shadows on the blade finish from handling and / or the sheath. It has never been used or carried, and has the original edge. The leather sheath has darkened from age, has some minor scuffs and marks on the back and belt loop, and the sharpening stone is dirty from having remained in the leather pouch. Dwaine is no longer making fixed blade knives. His fixed blades are highly coveted by collectors, and almost impossible to find in the secondary market.

Condition: Previously Owned, Excellent to Near Mint
Never used, carried or sharpened

Overall length: 12 1/2"

Blade length: 6 3/4"