Dwaine Carrillo Alabama Damascus BUTTON-LOCK Scout M4, Black G10 (SOLD)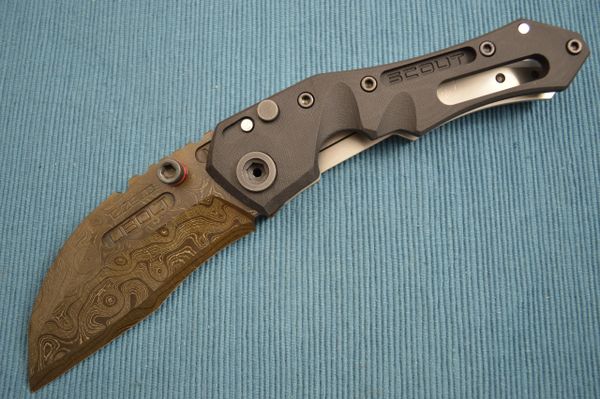 Dwaine Carrillo Alabama Damascus BUTTON-LOCK Scout M4, Black G10 (SOLD)
This is Dwaine Carrillo's signature Scout M4 folder. This knife is Brand New, and received directly from Dwaine. This knife features his NEW UBOLT button-lock mechanism. Dwaine has discontinued his frame-lock folders in favor of this new button-lock design. Dwaine feels that this new lock will hold up better, and eliminate the "lock stick" that sometimes occurs with frame-locks, and tends to get worse over time as the lock wears. The button-lock is a very secure lock, and we think it adds a "cool" factor to his folders.
This knife features a 1/4" thick Alabama Damascus M4 blade, and a Black G-10 grip. A great combination...it looks awesome! We particularly love the M4 blade shape - aggressive and sharp! It has an over-sized pivot, blue and gold anodized clip set for tip-up carry, satin finished titanium frame, notched thumb-rest, and red anodized thumb-stud and pocket clip spacers. It has solid lockup, and excellent blade-seating. Dwaine has purposely tightened up the blade just a tad. He tells me that the washers will break in, and blade action will smooth out over time. This is a heavy duty folder, true to Dwaine's style. As with all the knives that come direct from Dwaine's shop in Oklahoma City, included is a Pelican 1030 micro hard case.

Condition: Brand New from Maker

Overall length: 9 7/8"

Blade length: 4 1/4"

Closed length: 5 5/8"