Dwaine Carrillo Alabama Damascus PROTOTYPE Button-Lock Scout M4, OD Green G10 (SOLD)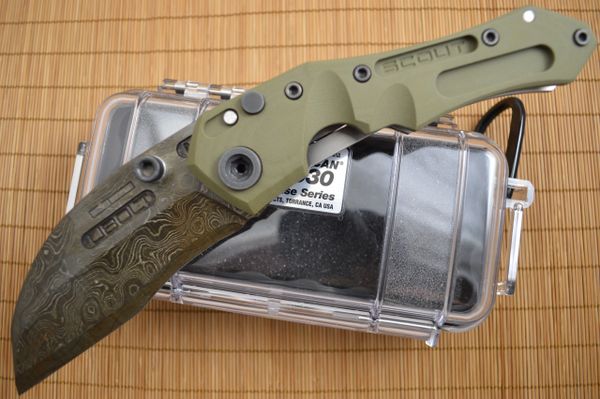 Dwaine Carrillo Alabama Damascus PROTOTYPE Button-Lock Scout M4, OD Green G10 (SOLD)
This is Dwaine Carrillo's signature Scout M4 folder. This knife is Brand New, and just received directly from Dwaine. This knife features his NEW UBOLT button-lock mechanism. It is a rare Damascus PROTOTYPE, as marked on the backspacer (pictured). A Dwaine Carrillo prototype is highly collectible and super rare, particularly one done with an Alabama Damascus blade. They do not come up for sale very often. Dwaine has discontinued his frame-lock folders in favor of this new button-lock design. Dwaine feels that this new lock will hold up better, and eliminate the "lock stick" that sometimes occurs with frame-locks, and tends to get worse over time as the lock wears. The button-lock is a very secure lock, and we think it adds a "cool" factor to his folders.
This knife features a 1/4" thick Alabama Damascus blade, and an OD Green G-10 grip. A great combo...it looks awesome! It has an over-sized pivot, blue and gold anodized clip set for tip-up carry, satin finished titanium frame, and notched thumb-rest. It has rock solid lockup, and excellent blade-seating. Dwaine has purposely tightened up the blade pivot just a tad. He tells me that the washers will break in, and blade action will smooth out over time. This is a heavy duty folder, true to Dwaine's style. As with all the knives that come direct from Dwaine's shop in Oklahoma City, it comes in a Pelican hard case.
For those of you who are not aware, Dwaine is very ill and has been struggling to build knives. To the best of his ability, he is making every effort to complete any and all backorders that are in-house. And on rare occasions, he will release a new knife to help with his cash flow. Windy City Knives is fortunate to be an authorize dealer for Dwaine, so we do get new pieces from time-to-time...like this one. If you've tried to contact Dwaine with little or no success, be patient. Getting better is his primary focus. Send him good thoughts and prayers for a full and speedy recovery.

Condition: Brand New from Maker

Overall length: 9 7/8"

Blade length: 4 1/4"

Closed length: 5 7/8"