Dwaine Carrillo Cobra M5, Full Titanium, Black Oxide Finish Blade, #4 of 6 Last of the Frame-Locks (SOLD)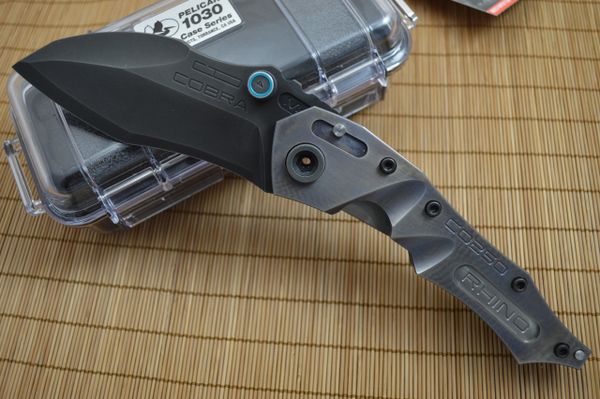 Dwaine Carrillo Cobra M5, Full Titanium, Black Oxide Finish Blade, #4 of 6 Last of the Frame-Locks (SOLD)
This is Dwaine Carrillo's signature Cobra M5 frame-lock folder. However, this one is a little special. Dwaine has decided to discontinue making frame-locking folders, and is going to a new locking mechanism. For those of you who are familiar with Dwaine's work, you know that when he discontinues something it is discontinued - he will not make any more...period. If you are a Carrillo collector, you'll want to have this piece in your collection. For the final run of frame-lock folders, Dwaine did a limited build of six (6) knives. These knives are serialized, and signed by the master himself. This one is #4, and is marked "4" on the thumbstud, and the blade is signed "Dwaine Carrillo #4 of 6". He also dressed these up with his new beefier pivot pin, green (instead of red) pocket clip spacers, and green (instead of red) titanium backspacers. It also features a 1/4" thick CPM-154 Stainless Steel blade with Dwaine's Black Oxide Finish, and full titanium grips anodized so that they look bluish purple and gold, to match the tip-up carry pocket clip. It also has a notched thumb-rest for better grip and control. This is a great package...it looks awesome! There's no mistaking this for his "stock" Cobras. It has great detent, rock solid lockup, and excellent blade-seating. This is a heavy duty folder, true to Dwaine's style. It is BRAND NEW. Just received from Dwaine's shop in Oklahoma City. As with all the knives that come direct from Dwaine's shop, it comes in a Pelican hard case. This could be a great investment opportunity, as these are the last of their kind. If nothing else it certainly is a great addition to any collection.

Condition: Brand New from Maker

Overall length: 10 1/8"

Blade length: 4 1/2"

Closed length: 6 1/8"