Dwaine Carrillo Tripwire, Model 7, Frame-Lock, Black G10 (SOLD)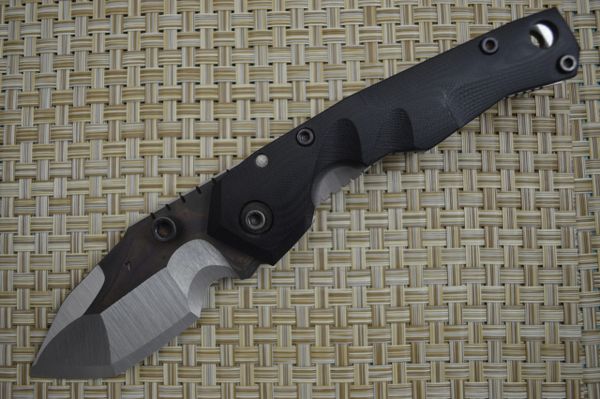 Dwaine Carrillo Tripwire, Model 7, Frame-Lock, Black G10 (SOLD)
This is Dwaine Carrillo's signature Tripwire, Model 7 folder. This is the knife that Dwaine is most well-known for, and the knife that put him on the map as one of the premier tactical folding knife makers. This knife is a frame-lock design, and features a 0.20"
thick 154 CM stainless steel blade with a heat treated flat. The presentation side is black G-10, and the clip side is satin finished titanium. There is a bluish-purple anodized clip set for tip-down carry. It also has a notched thumb-rest and ambidextrous thumb-stud. It has rock solid lockup, and excellent blade-seating. This is a rare find. It is in excellent, previously owned condition. There are some minor handling marks visible on the clip - the knife was carried in a pouch. The blade shows no signs of use. It will ship in a padded, zippered case.

Condition: Previously owned. Excellent condition.

Never used or sharpened. Rarely carried in a belt sheath.
Overall length: 9"

Blade length: 3 1/2"

Closed length: 5 1/2"