Edmund Davidson Integral Hunting Knife (SOLD)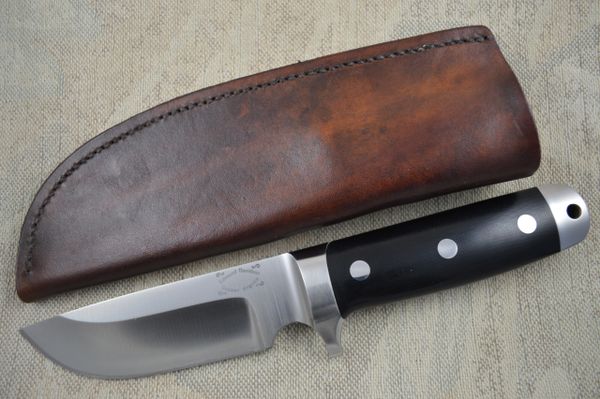 Edmund Davidson Integral Hunting Knife (SOLD)
Edmund Davidson of Goshen, VA is known the world over for his integral construction and design of knives. Integral knives are made from a solid, homogeneous billet of steel that has handle inlays. They are created by carefully removing material until all that is left is a blade, tang and butt cap. Knives of integral construction are time consuming and costly to build. Not many knifemakers will undertake the task of making them. Edmund's knives are built like a tank. They are indestructible and highly functional. Some of his patterns with engraving and scrimshaw are investment quality art pieces that become family heirlooms.
This integral hunting / skinning knife was completed by Edmund on 9-9-94. It made from a solid billet of 1/4 inch, 440-C steel. It comes from my personal collection. And although 20 years old, it is in the exact same condition as when it was first acquired. It's design and construction are no different than an integral he would build today. This one is a beast, that feels like it will go through a car door. Yet the deep finger choil at the base of the blade gives it a feel and balance that tells you it was designed to be used in the field. The knife comes with a heavy duty leather pouch-style sheath, also handmade by Edmund.

Condition: From my personal collection. MINT
Never used, carried, or sharpened.
Overall length: 10"
Blade length: 5"
Cutting edge: 4"
Weight: 15 ounces