Emerson Knives Combat Tomahawk with Spike, Kydex Sheath (SOLD)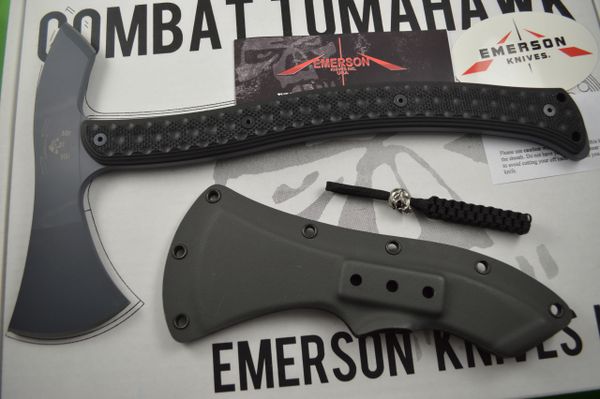 Emerson Knives Combat Tomahawk with Spike, Kydex Sheath (SOLD)
Ernie Emerson debuted the Combat Tomahawk around the time of the 2017 Blade Show.  These Hawks ultimately wound up on the Emerson website, and quickly sold out.  They are still currently unavailable.  They are hard to find, and collectible.  These are proudly made in the U.S.A. by Emerson Knives, Inc.
The Emerson Combat Tomahawk features a solid CPM-S7 body, with both an axe head and spike.  Crucible S7 is a shock-resistant air hardening tool steel, designed for high impact resistance at relatively high hardness.  It offers toughness to withstand chipping and breaking, combined with high attainable hardness and good wear resistance.  In small sections the grade can be quenched in air which assures minimal distortion.  It is well suited for small to medium molds that require higher compression resistance while retaining a fair degree of toughness.  The handle is Black Grip-Tite G10, a highly textured and very "grippy" feeling material.  It affords the user a secure hold on the Hawk, whether your hand is gloved or wet.  The entire Hawk is finished in Combat Grey Cerakote Ceramic.  The serial number of the Hawk is #028 (pictured).
In addition to the Kydex sheath, the Hawk will ship with the pictured pamphlet, sticker, caution insert and Emerson Skull Bead and braided lanyard.  The Hawks are previously owned, and in brand new condition - never used, sharpened or carried.  There are some typical rub marks on the Cerakote finish caused by insertion and removal of the hawk head from the Kydex.   Please note that the hawk will also come with the original cardboard box provided by Emerson (pictured).
Condition: Previously owned.  Brand New.
                   Never used, carried or sharpened.
Overall Length:        13 3/4"
Handle Length:        12"
Head Width:              7 5/8" (measured from cutting edge to tip of spike)
Cutting Edge:            2 7/8"
Handle Thickness:    3/4"
Hawk Weight:           1 lb. 10.3 oz. (add 2.4 ounces for the sheath)