Emerson Knives Government Mule SFS Fixed Blade Knife, Partially Serrated, G-10 Handles (SOLD)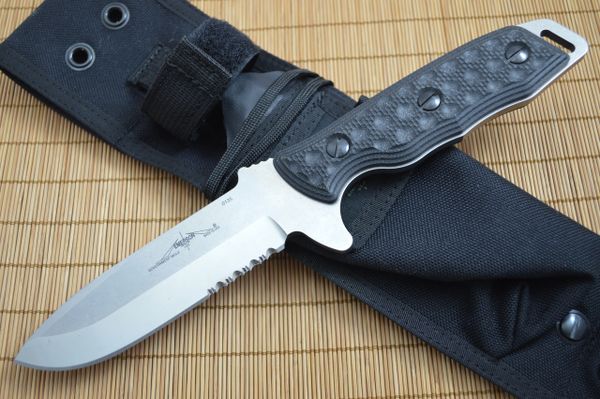 Emerson Knives Government Mule SFS Fixed Blade Knife, Partially Serrated, G-10 Handles (SOLD)
From the Emerson website...The Government Mule was the workhorse of the US Military for almost 150 years.  It moved the army.  All the supplies: food, ammunition, weapons, and artillery were dependent on the strength, endurance and dependability of this animal to get from one battlefield to the next.  In fact, our ability to wage war rode on the back of a mule.  The Emerson Government Mule fixed blade has many of those same attributes.  It is strong, rugged and dependable.  Constructed of thick, battle-proven 154CM Steel, nearly .200″ thick.  It features a combat-ready, bullnose, spear point blade that is every bit as tough as it looks.  The handles are made of black dimpled G-10 that is securely bolted with industrial strength hardware.  Best of all, it is an Emerson design with legendary "Emerson Ergonomics" that is everything you've come to expect from Emerson Knives. This knife isn't just a workhorse, it's a Government Mule.  The Government Mule makes for the ultimate outdoorsman's knife. Each comes with a nylon/Kydex sheath that you can strap to a bag or belt with ease.
This Ernie Emerson Government Mule SFS features a stonewashed 154CM stainless steel blade, with a conventional V-grind and chisel edge, and partial serrations.  The Rockwell Hardness is 57-59RC.  The handle is black dimpled G-10 scales, securely fixed with the previously mentioned industrial strength hardware.  It has a great tactile, positive feel in-hand, that feels just right.  The knife is serial number 0135.
In addition to the nylon/Kydex sheath, the knife will ship with the pictured pamphlet, sticker and caution insert.  The knife is previously owned, and in brand new condition.  It has never been used, sharpened or carried.  Please note that the knife will also come with the original cardboard box provided by Emerson.
Condition: Previously owned.  New.
                   Never used, carried or sharpened.
Overall Length:   10 1/4"

Blade Length:      5"

Handle Length:    5 1/4"