Emerson Knives "Sprint Run" EBX-1-SF Fixed Blade Knife, Black Richlite Handles (SOLD)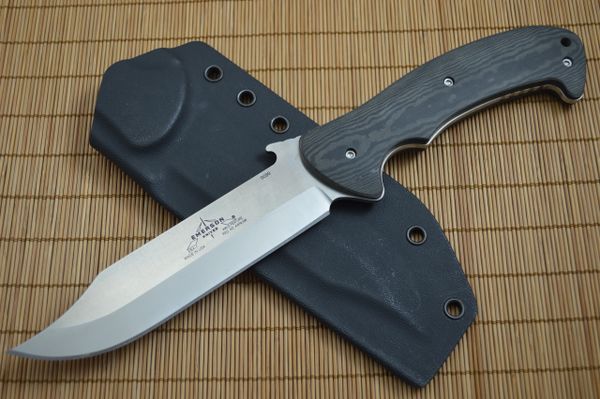 Emerson Knives "Sprint Run" EBX-1-SF Fixed Blade Knife, Black Richlite Handles (SOLD)
From the Emerson website...This is a "Sprint Run" and this knife will not be available as a standard production model.  Limited quantities available while supplies last.  Who doesn't like Bowie Knives?  Heck it's part of the American Story – Jim Bowie, Davy Crockett, The Alamo.  It's an iconic knife design woven into the historical fabric of this nation.  It is without a doubt the "American Knife."  The Emerson EBX-1 is my spin on that historical design and it too is a great knife.  With a blade long enough for any cutting chore, featuring a bowie style curved clip design, it is coupled with a super comfortable, ergonomic handle, the Emerson EBX-1 just begs to be used – hard.  With radiused Richlite handles and a form fitting kydex sheath, this is a go anywhere, use anytime knife that will serve you well no matter where your journey beckons you to venture forth.
This Ernie Emerson EBX-1 features a 154CM stainless steel blade, and a Black Richlite handle.  Emerson offered this knife as a "Sprint Run", meaning it was not intended to be offered as a standard production model, and limited quantities were available when it was released.  The EBX-1 is Sold Out on the Emerson Knives website, and are hard to come-by in the secondary market.  I am not certain how many EBX-1 knives were offered/sold, or how many blades had satin finishes vs. black finishes.  This EBX-1 has a satin finished blade, and is serial number 0099.
In addition to the Kydex sheath, the knife will ship with the pictured pamphlet, sticker and caution insert.  The knife is previously owned, and in new condition.  It has never been used, sharpened or carried.  There are some typical faint horizontal micro scratches on the blade, caused by insertion and removal of the knife from the Kydex sheath.   Please note that the knife will also come with the original cardboard box provided by Emerson.  HOWEVER, it is oversized for the knife, and would require a much larger shipping box than really necessary.  THEREFORE, I will de-construct the box to flat, and include it in the shipping box.  Please contact me should you have any questions.
Condition: Previously owned.  New.
                   Never used, carried or sharpened.
Overall Length:   10 7/8"

Blade Length:      5 1/2"

Handle Length:    5 3/8"