Enrique Peña Custom "Mexican Blanket" Zulu Liner-Lock Front Flipper Folding Knife (SOLD)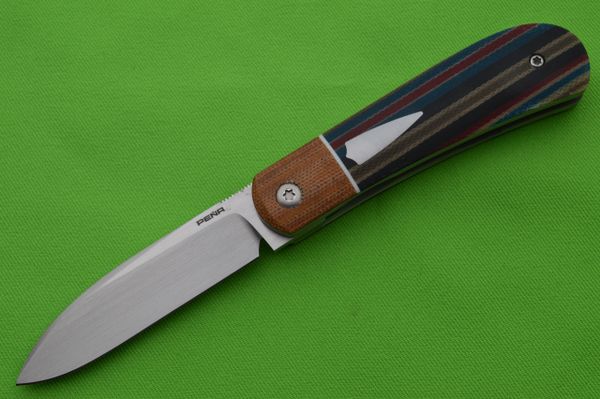 Enrique Peña Custom "Mexican Blanket" Zulu Liner-Lock Front Flipper Folding Knife (SOLD)
Enrique Peña has been making knives since 2006,  He began his career strictly making traditional style folders.  He was another one of Bill Ruple's students.  Now he makes both traditional knife patterns and tactical knives, and has melded both styles of knives into some outstanding traditional patterns with liner-locks and flippers.  His knives have gained a lot of traction among collectors, and have become highly desirable to own.  His precise fit, finish, selection of materials, appearance and design, are what defines a custom handmade knife.  Enrique is extremely skilled at his craft, and the action, ergonomics, fit and finish of his work are absolutely top shelf.
This liner-lock front flipper Zulu is brand new, direct from Enrique at Blade Show Texas 2023.  The drop point blade is CPM 154 stainless steel, with a hand rubbed satin finish and notched thumb rest.  It features "Mexican Blanket" linen Micarta scales, a tan canvas Micarta bolster with matching tan Micarta backspacer, titanium liners, stainless shield and white Micarta spacers highlighting the handle/bolster.  The blade runs on ceramic bearings over stainless steel washers and flips smoothly and quickly.  The blade has great detent, rock solid lock-up, centered blade seating, and an early lock-up with no lock-stick.  Comes in a PENA padded, zippered storage case.

Condition:  New from the maker
Overall length:  6 1/2"

Blade length:    2 7/8"

Closed length:  3 5/8"