Ernie Emerson Custom Bolstered "Super Roadhouse", Blade Show Lottery Knife (SOLD)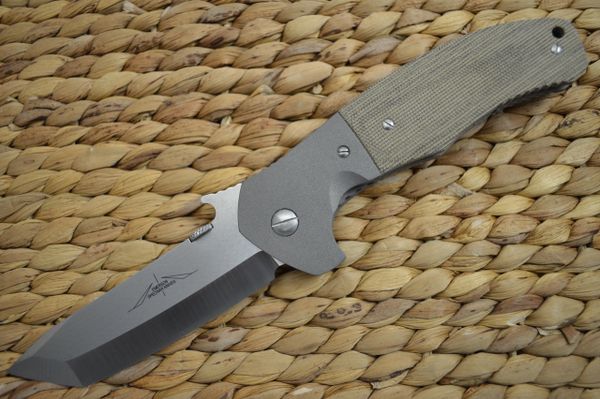 Ernie Emerson Custom Bolstered "Super Roadhouse", Blade Show Lottery Knife (SOLD)
This Ernie Emerson Custom, Bolstered, "Super Roadhouse" features a hand-ground, satin finished blade with a chisel grind, bead blasted titanium bolsters and liners, green Micarta scales, and a black G-10 backspacer. The pocket clip is stainless and set for tip up carry. It also has Ernie's "Wave" feature, a thumbdisc, and sports the Emerson Specwar Knives logo. This is a hard-to-find model, and a beast of a knife It is direct from the Emerson Lottery at the 2017 Blade Show. The lock-up is rock solid, and the blade is perfectly seated for a chisel grind. It is in Brand New, Mint Condition. Comes in the original Emerson box.
Condition:
Brand New From Maker. MINT.
Overall Length: 9 3/4"

Blade Length: 4 1/4"

Closed Length: 5 1/2"