Ernie Emerson Custom Chisel Ground KACK (Kick Ass Combat Knife) (SOLD)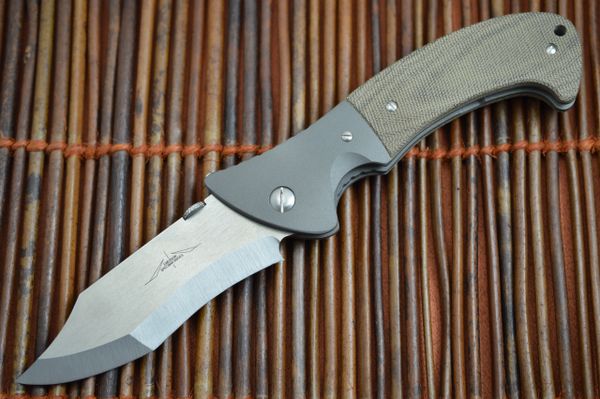 Ernie Emerson Custom Chisel Ground KACK (Kick Ass Combat Knife) (SOLD)
According to Ernie Emerson...
"Some knives are hunters. Some knives are for general utility use.  And some knives are bred for combat.  This is what you get with the Emerson KACK – Kick Ass Combat Knife.  This knife is a purebred fighting creation.  If it were a gun it wouldn't be a pistol, it wouldn't even be a sniper rifle, it would be a .50 caliber machine gun.  Once in your hand you'll know it is cocked, locked, and ready to rock."
The Emerson KACK – Kick Ass Combat Knife features a dramatic, razor sharp blade that is one part Bowie, one part Tanto and one part Bolo. It's like combining, Mike Tyson, Muhammad Ali and Rocky Marciano all into one fighter.  The KACK is a force to be reckoned with.

The Kick Ass Combat Knife features the hidden "wave feature" handle and blade combo which opens like a bolt of lightning straight out of your pocket.
With an extended coil for "no slip forward" safety and a turned down pistol grip handle in the rear, the knife is safe and secure in any grip, forward or reverse."
This Ernie Emerson custom, bolstered, KACK came from an Emerson Lottery at the 2015 or 2016 Blade Show.  It features a hand-ground, satin finished blade with a rare chisel grind, bead blasted titanium bolster and liners, green canvas Micarta scales, and a black G-10 backspacer.  The pocket clip is stainless and set for tip up carry.  Make sure to check out the Ernie's wave feature as described above - in the closed position it is visible, but in the open position it is "hidden".  It also features a thumb disk, domed pivot screw, and the blade sports the Emerson Specwar Knives logo.  This is a hard-to-find model, and highly collectible.  A custom KACK does not come up for sale very often in the secondary market - in fact, Ernie didn't make many customs.  And the production KACK sold out a long time ago - and quick.  The lock-up is early and rock solid, and the blade is perfectly seated for a chisel grind.  Comes in the original Emerson black felt bag (no box).  This one won't be around long!


Condition: Previously owned. MINT.
                   Never carried, used or sharpened
Overall Length:  9 1/2"

Blade Length:    4 1/4"

Closed Length:  6" (due to the angled bolster)