Ernie Emerson ECA MV-3-SFS KOTY 2019 Folding Knife (SOLD)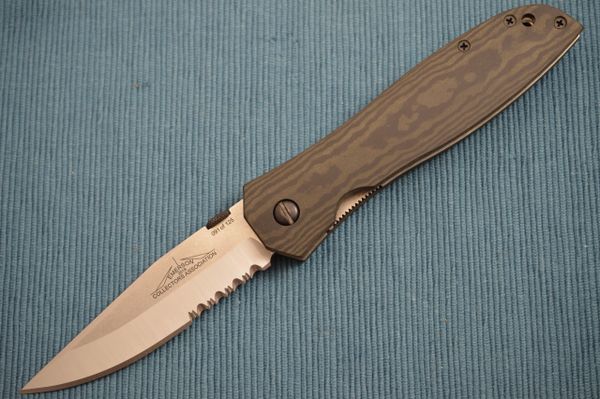 Ernie Emerson ECA MV-3-SFS KOTY 2019 Folding Knife (SOLD)
This is Ernie Emerson's MV-3-SFS KOTY 2019.  The MV-3 was part of the MV line, consisting of models MV-1 through MV-5.  The MV line of knives were also known as the Viper Series.  Ernie has chosen to discontinue the Viper line of knives.  This particular MV-3 was an Emerson Collectors Association release.  It features a partially serrated 154CM spearpoint stainless steel blade with a conventional V-grind with chisel edge.  The scales are (I believe) black micarta.  This knife opens manually using the ambidextrous thumb wheel.  There is no wave feature.  The liners are titanium, providing a secure and solid lock-up when the knife is opened.  The pocket clip is black coated stainless and set for tip up carry.  This knife is serial number 091 of 125 made.  The knife opens smoothly, and the lock-up is rock solid.  The blade is perfectly centered.  Included is an Emerson Skull Bead with box-braided lanyard.  Comes in the original Emerson box, with Emerson decal, plastic bag and paperwork.
Condition:
New in the original box                  
Overall Length:  9 1/2"

Blade Length:    4"

Closed Length:  5 1/2"