Ferrum Forge One-Off Frame-Lock N-TAC Flipper Folding Knife, SM-100 Hexagonal Anodized Blade, Cerulean Dark Matter Titanium Frame (SOLD)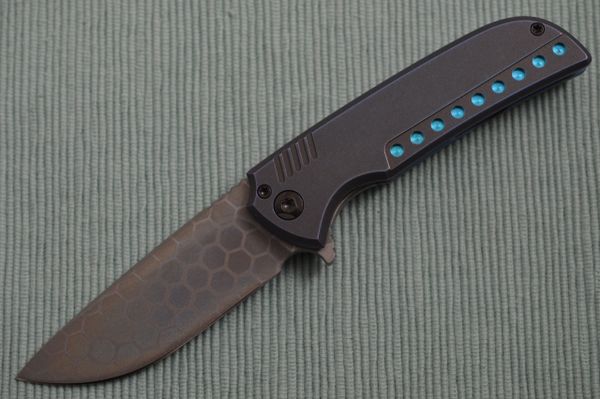 Ferrum Forge One-Off Frame-Lock N-TAC Flipper Folding Knife, SM-100 Hexagonal Anodized Blade, Cerulean Dark Matter Titanium Frame (SOLD)
This N-Tac frame-lock flipper is a one-of-a-kind knife from Ferrum Forge.  It features a unique blade steel, SM-100 Nickel Titanium Alloy, for a completely corrosion proof and non-magnetic blade, that is both difficult and extremely expensive to make.  The blade has been anodized with a tight hexagonal (honeycomb) pattern, which Ferrum Forge can re-finish when the time comes.  The knife also features milled Titanium scales with a Cerulean Dark Matter finish, D2 steel lock insert with integral overtravel arrestor, titanium pivot and pocket clip, as well as the Hoback Rolling Detent (HRD) system.  
The blade opens buttery smooth, thanks to the caged bearing pivot.  The blade locks up vault tight, sits perfectly centered in the frame when closed, and has an easy lock bar release.  The knife is previously owned, and in mint condition.  It comes in the padded zippered case originally provided by Ferrum Forge, with the attached N-TAC dogtag. 

Condition:   Previously owned.  Mint.
                    Never used, carried or sharpened
Overall length:  6 5/8"
Blade length:    3"
Closed length:  3 5/8"