Francois Massyn Liner-Lock IKBS Flipper Folding Knife (SOLD)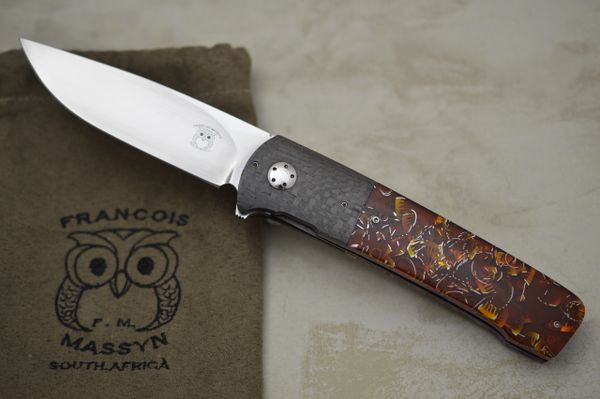 Francois Massyn Liner-Lock IKBS Flipper Folding Knife (SOLD)
Francois Massyn is a part-time knifemaker from Richards Bay in South Africa, and a long standing member of the Knifemakers Guild of South Africa.  He is one of the most experienced members on the North Coast knifemakers club.  His knives feature the IKBS (Ikoma Korth Bearing System), and are super smooth.  He makes both liner-lock and frame-lock folding knives.  His knives have great lines, and are an exceptional value for the quality you receive.  This liner-lock flipper features a N690 stainless steel blade running on the IKBS, a lightning strike carbon fiber (LSCF) bolster, and a very unique handle made from an acrylic with metal shavings.
The blade flips smooth and fast, with a bit of wrist.  The knife has a soft detent, locks up tight, has an easy liner-lock release, and the blade is well-seated between the liners when closed.  The knife is previously owned, and in excellent condition.  Comes in the pictured drawstring pouch, provided by Francois. 

Condition:   Previously owned.  Excellent.
                    Never used, carried or sharpened
Overall length:  8 3/4"
Blade length:    3 3/4"
Closed length:  5"