Gary Mulkey Damascus and Walnut Burl Hunting Knife + Bob Schrap Leather Sheath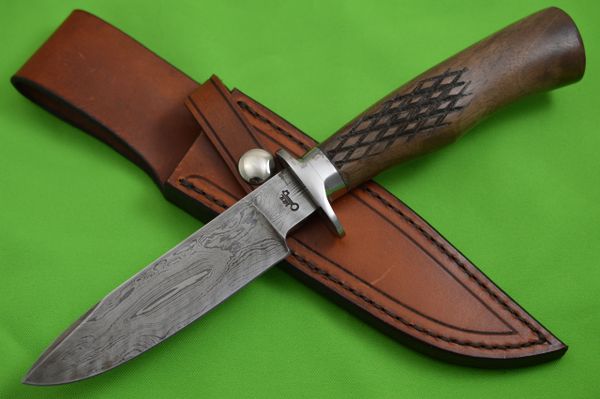 Gary Mulkey Damascus and Walnut Burl Hunting Knife + Bob Schrap Leather Sheath
Gary lives in Branson, MO where he has been a full-time knifemaker since 1997.  He still hand forges each blade, as well as makes his own Damascus steel.  All of his knives are sole ownership.  Gary has received multiple awards at major knife shows for his work, and has been featured in "Blade", "Knives Illustrated", "Knife World" and "Knife" magazines.
This Gary Mulkey Hunter features a random pattern Damascus blade, forged from 1080 and 15N20 steels.  The handle is stabilized Walnut Burl, with cross hatching on both sides for better tactile feel and enhanced grip.  The knife is nicely weighted and balanced, and feels great in-hand.  The guard is 416 stainless steel.  Gary marks the ricasso of the blade with "MUL" and the image of a skeleton key.  This is a great hunting knife for the field, or camp site.  The leather sheath with keeper strap was made by Bob Schrap of Wauwatosa, WI.  It is not original to the knife, but fits well.  The knife is new, direct from Gary.  In addition to the sheath, a padded zippered case is also included.
Condition:  New from the maker.
Overall length:       10 1/4"

Blade length:          5"
Handle length:        5 1/4"