Gary Mulkey Damascus Quillon Dagger, African Blackwood, Silver Wire Inlay (SOLD)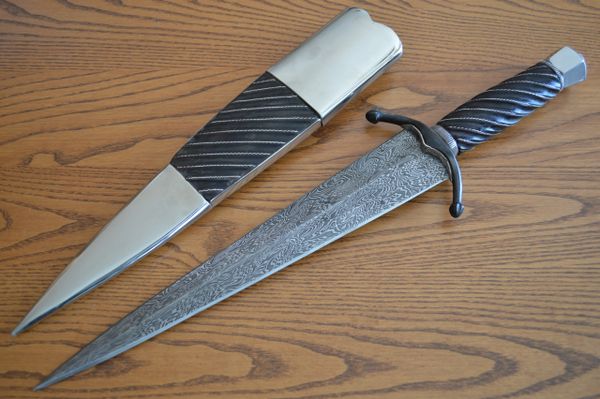 Gary Mulkey Damascus Quillon Dagger, African Blackwood, Silver Wire Inlay (SOLD)
Gary lives in Branson, MO where he has been a full-time knifemaker since 1997. He still hand forges each blade, as well as makes his own Damascus steel. All of his knives are sole ownership. Gary has received multiple awards at major knife shows for his work, and has been featured in "Blade", "Knives Illustrated", "Knife World" and "Knife" magazines.
I recently met Gary Mulkey at the Art of Steel Show in Little Rock, AR in February 2017. Gary is a helluva nice guy, and had a nice selection of both forged carbon steel and Damascus Bowies on his table - all very impressive. I chose this particular knife because of how difficult it is to make a Quillon Dagger, and knowing how labor intensive it is to do fine silver wire inlay. The Damascus was forged by Gary from 1084 and 15N20. The handle is African Blackwood with beautifully done Fine Silver Wire Inlay. The guard is blued steel with a textured fine silver face. All the fittings are 416 Stainless Steel. Gary did a great job with the sheath. It too is African Blackwood with Fine Silver Wire Inlay, and lined with leather to protect the blade. The throat and tip of the sheath are both Nickel Silver. Gary marks the ricasso of the blade with "MUL" and the image of a skeleton key. A great deal of work, time, materials, and craftsmanship went into building this knife. It is a big knife, and perfect for display. It is being offered at Gary's table price.
Condition:
New from the maker.
Overall length: 16 1/2"

Blade length: 11"
Handle length: 5 1/2"
Weight: 1 lb 13 oz.