Gary Mulkey F.C. Goergen Damascus & Walnut Burl Bowie Knife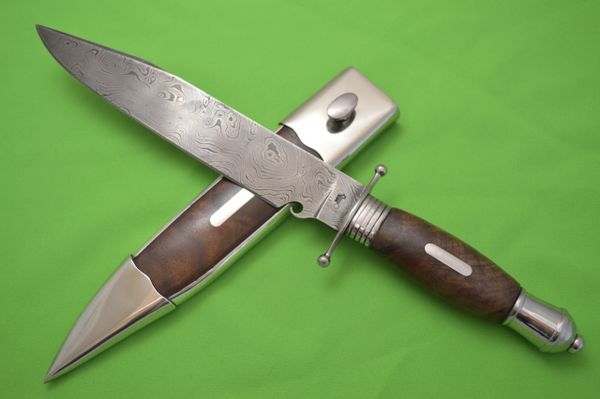 Gary Mulkey F.C. Goergen Damascus & Walnut Burl Bowie Knife
Gary lives in Branson, MO where he has been a full-time knifemaker since 1997.  He still hand forges each blade, as well as makes his own Damascus steel.  All of his knives are sole ownership.  Gary has received multiple awards at major knife shows for his work, and has been featured in "Blade", "Knives Illustrated", "Knife World" and "Knife" magazines.
This Gary Mulkey Bowie knife was inspired by the F.C. Goergen Bowie.  F.C. Goergen was a well-known commission merchant who worked in New Orleans, LA, from 1842 - 1849 when he passed away.  There are only a handful of original F.C. Goergen Bowies known to exist, all of them being etched with romantic slogans on the blade.  This Bowie features a Damascus blade (sans romantic slogan), forged from 1084 and 15N20 steels.  There is a "Spanish notch" near the double lugged guard, a feature commonly seen in early Bowie knives.  The handle is stabilized Walnut Burl, and the fittings, including the double guard, collar, and butt cap, are all 416 stainless steel.  The knife is nicely weighted and balanced, and feels great in-hand.  Gary marks the ricasso of the blade with "MUL" and image of a skeleton key.  A great deal of work, time, materials, and craftsmanship went into building this knife.  The sheath is Gary's own design, and complements the knife handle.  It too is made of stabilized walnut burl, with 416 stainless steel tip, throat and edging, as well as the frog button.  There are some very fine surface lines on the stainless steel.  It is new, direct from Gary.  The knife and sheath also come with a padded zippered case.
Condition: New from the maker.
Overall length:       14"

Blade length:          8 3/4"
Handle length:        5 1/4"