Gary Mulkey W1, Desert Ironwood Bowie, Twisted Silver Wire Inlay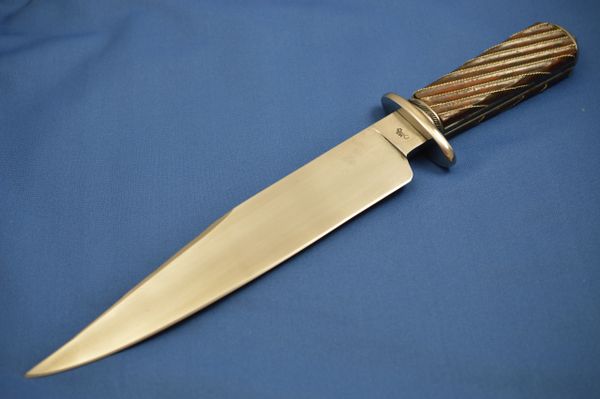 Gary Mulkey W1, Desert Ironwood Bowie, Twisted Silver Wire Inlay
Gary lives in Branson, MO where he has been a full-time knifemaker since 1997.  He still hand forges each blade, as well as makes his own Damascus steel.  All of his knives are sole ownership.  Gary has received multiple awards at major knife shows for his work, and has been featured in "Blade", "Knives Illustrated", "Knife World" and "Knife" magazines.
This Gary Mulkey Bowie knife features a 0.33" thick forged W1 tool steel blade.  The handle scales are two pieces of Desert Ironwood.  Gary has inlaid twisted silver wire into both sides of the handle, much in the same way it is done on a Quillon Dagger for a Mastersmith's test knife.  Inlaying silver wire is a time consuming, tedious task.  Not many knifemakers would "elect" to do it on a Bowie, but Gary pushes the envelope and did a great job.  The knife is nicely balanced, and feels great in-hand.  The guard, spacer, and pommel are all 416 stainless steel.  There's also a blue anodized, file-worked spacer below the guard, and matching blue anodized, file-worked spacers between the Desert Ironwood scales on both the top and bottom of the handle.  Gary marks the ricasso of the blade with "MUL" and the image of a skeleton key.  The knife is new, direct from Gary.  There is no sheath.  It will come in a padded zippered case for storage.  If you need a quality leather sheath, I would recommend contacting 
Kenny Rowe Leather
.
Condition:  New from the maker.
Overall length:       15 1/2"

Blade length:          10 1/4"
Handle length:        5 1/4"
Weight:                   21.9 ounces