Gary Mulkey W1 Dog Bone Bowie, Ancient Fossilized Handle Scales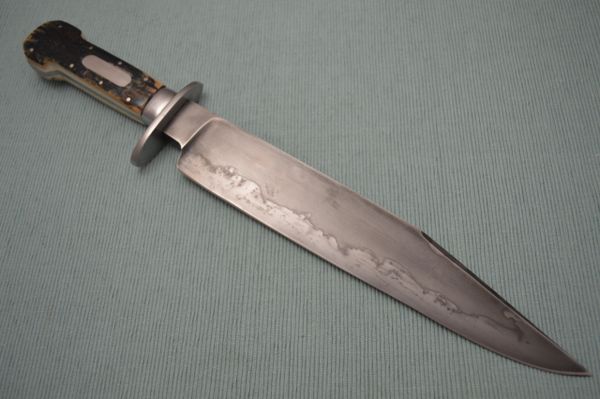 Gary Mulkey W1 Dog Bone Bowie, Ancient Fossilized Handle Scales
Gary lives in Branson, MO where he has been a full-time knifemaker since 1997.  He still hand forges each blade, as well as makes his own Damascus steel.  All of his knives are sole ownership.  Gary has received multiple awards at major knife shows for his work, and has been featured in "Blade", "Knives Illustrated", "Knife World" and "Knife" magazines.
This Gary Mulkey Dog Bone Bowie features a 0.25" thick W1 tool steel blade, with a hamon done in the traditional style of Japanese sword makers.  This is a very unique and difficult hamon to achieve, but Gary nailed it.  The handle scales are two beautifully mated thick slabs of blue / black ancient fossilized material.  The knife is nicely weighted and, feels great in-hand.  The guard, hilt, pins and escutcheon (shield) are all 416 stainless steel.  Gary marks the ricasso of the blade with "MUL" and the image of a skeleton key.  The knife is new, direct from Gary.  There is no sheath.  It will come in a padded zippered case for storage.
Condition:  New from the maker.
Overall length:       15"

Blade length:          10 1/4"
Handle length:        4 3/4"
Weight:                   17.5 ounces