Gene Baskett, Kimber .45 Auto Rubber Grips Lock-Back Folder, File-Work, Leather Sheath (SOLD)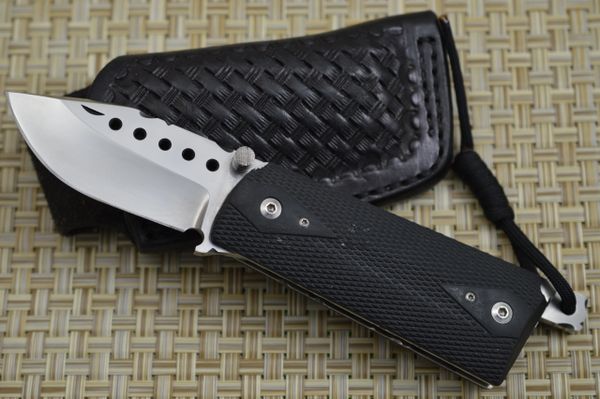 Gene Baskett, Kimber .45 Auto Rubber Grips Lock-Back Folder, File-Work, Leather Sheath (SOLD)
This is Gene Baskett's signature 1911 pistol grip, lock-back folding knife.  This scales on this knife are Kimber .45 Auto rubber grips.  The knife features an S30V stainless steel blade with 5 holes in blade, and a small nail nick.  There is also a single thumbstud with checkering for a better tactile feel when opening the blade.  There is tastefully done file-work on the full spine of the blade, that continues onto the stainless steel backspacer.  There's even file-work on the blade at the bottom of the ricasso.  The liners are anodized titanium, also file-worked, as well as jeweled.  The tail-lock extends past the butt of knife.  There is a lanyard hole and paracord lanyard.  It comes with a hand-tooled, basket weave pattern, black leather pouch-style belt sheath, made by Rowe Leather.
The knife is previously owned, and in excellent to near mint condition.  It has never been used, nor has it been carried.  The blade is pristine, as is the sheath.  The only note is that there appears to be 3 or 4 tiny shiny spots on the rubber grip, on the presentation side.  These can be seen in the pics.  Under magnification, they almost appear to be tiny "burn" marks - like stray sparks in the shop landed on the grip and made "melt spots".  Clearly, this has no effect on the knife.  The blade sits perfectly centered between the liners when closed, and the lock-up is rock solid.  These knives were meant to be carried and used.
Condition:  Previously owned.  Excellent.

                    Never carried, used, or sharpened
Overall length:  7 1/4"

Blade length:    3"

Closed length:  4 1/4"