George Herron Working Hunter, Seldon Scott Leather Sheath (SOLD)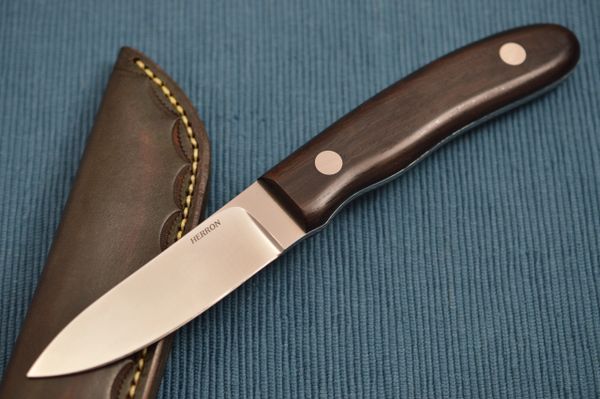 George Herron Working Hunter, Seldon Scott Leather Sheath (SOLD)
George Herron was a pioneer in the custom knife industry. George was known for his designs, quality, and fit-and-finish.  He specialized in stock removal Hunters, Skinners and Fighters.  He also made a number of lock-back and slip-joint folding knives.  He was a past president of the Knifemakers Guild, and founded the South Carolina Knifemakers Guild.  In 1987 he was inducted into the Blade Cutlery Hall of Fame.  He has a well established collector following.  The knife community lost George Herron when he passed away in 2007.
This George Herron Working Hunter features a satin finished ATS-34 stainless steel blade, with a full tang.  The handle is an unknown wood.  There are no liners.  The pins are stainless steel.  Includes a pouch-type brown leather sheath with tooling, made by retired master leathermaker Seldon Scott of Carrollton, KY.  This knife is not serialized.  This knife was previously owned, and in excellent, unused condition.  A few fine micro scratches from insertion / removal from the sheath.  There is no pouch.
Condition:  Previously owned.  Excellent.
                    Never used, carried or sharpened
Overall length:       7 5/8"

Blade length:          3 1/4"
Handle length:        4 3/8"