Grant & Gavin Hawk Custom TANGENT #26, Devin Thomas Herringbone Damascus, Zirconium Overlay (SOLD)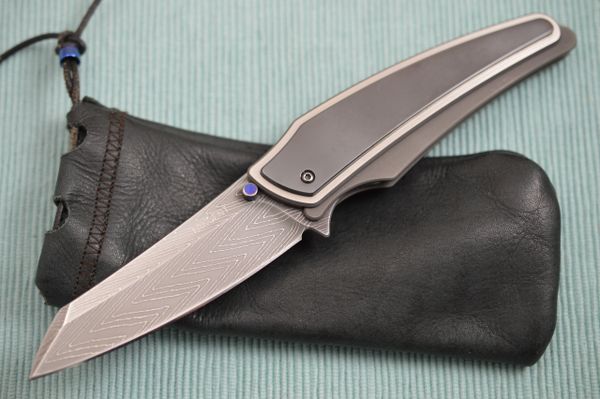 Grant & Gavin Hawk Custom TANGENT #26, Devin Thomas Herringbone Damascus, Zirconium Overlay (SOLD)
The Tangent is one of the newer knife models from Grant and Gavin Hawk.  It uses an ingenious mechanism that keeps the blade "locked" when held firmly in hand.  It is sort of a hybrid between a flipper and a friction folder.  There is no traditional "lock" when the blade is in the open position.  What keeps the blade secure is the "sandwiching" pressure applied from your thumb and index finger, when it is firmly held in-hand.  This design was first seen on the G&G Hawk Beetle folder.  The handle is satin and bead blast finished titanium.  This custom Tangent features Zirconium overlays on both sides.  Haven't seen another anywhere.  Most came with lightning strike carbon fiber overlays.  The "clothespin" style pocket clip is also titanium.  The blade is Devin Thomas Herringbone Damascus.  The blade flips open with assistance of a rubber band.  It is silky smooth, due to the ball bearing pivot.  This knife is serial numbered #26, as marked on the titanium frame / handle.
The knife is a front flipper that is easy to deploy.  If you've ever fumbled with a front flipper, this one is unlike any other we've handled.  It works every time - and fires strong.  This knife is made in the good old USA.  It ships in a leather drawstring pouch with bead closure, provided by the Hawks.
Condition:  Previously owned.  Excellent - Near Mint
                   Never used, carried or sharpened
Overall length:   7 1/2"




Blade length:     3 1/2"




Closed length:   4 3/4"