Grant & Gavin Hawk - Serge Panchenko ORBIT, Antique Finished BRONZE Overlay (SOLD)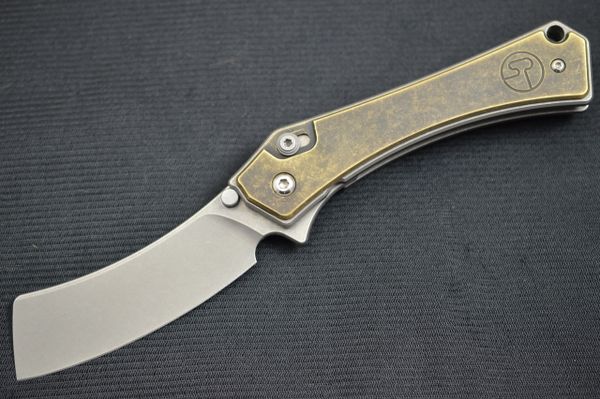 Grant & Gavin Hawk - Serge Panchenko ORBIT, Antique Finished BRONZE Overlay (SOLD)
The Orbit is a collaboration knife between Grant and Gavin Hawk and Serge Panchenko.  The design was done by Serge, with Gavin's input.  The mechanisms are the Hawk Lock and newly designed Hawk Detent.  This mid-tech folder is made by Millit Knives in Idaho, who did all the finish work.  However, Serge inspects and does the quality control for every knife, in his Sacramento shop, before it is shipped.
The knife features a cleaver-shaped blade made from CTS-204P stainless steel, with a stonewashed finish.  The handle is titanium.  Most of the Orbits were done with either a copper or titanium overlay (on both sides).  The knife offered here has a rare Bronze overlay.  And Serge did all the antique finishes on all the overlays - no matter the material.  The knife is a front flipper that is easy to deploy.  If you've ever fumbled with a front flipper, this one is unlike any other we've handled.  It works every time - and fires strong.  The Hawks have really dialed in the detent on this knife, and the Hawk Lock makes it easy to disengage the blade - the blade literally falls.  All you then have to do is click it back into the handle, and it is ready to fire again.  Serge Panchenko's logo is on the presentation side, and Hawk's logo is on the opposite scale.  This knife is made in the good old USA.  It ships in a padded, zippered case.
Condition:  Previously owned.  Excellent - Near Mint
                   Never used, carried or sharpened
Overall length:   7"




Blade length:     3"




Closed length:   4 1/4"