Grimsmo Brothers "Norseman" #1135, Green Honeycomb, 2018 Blade Show (SOLD)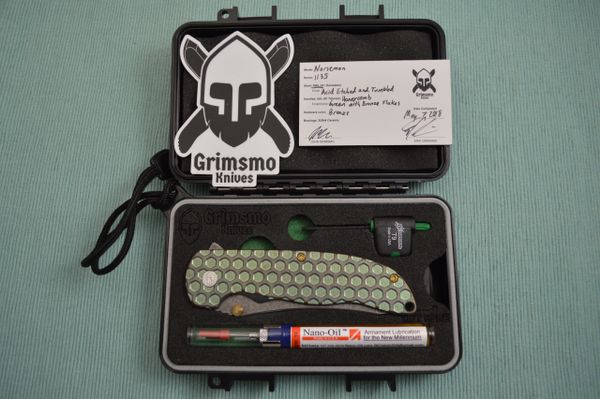 Grimsmo Brothers "Norseman" #1135, Green Honeycomb, 2018 Blade Show (SOLD)
This is John and Erik Grimsmo's wildly popular Norseman frame-lock flipper folder.  Norseman means "Man of the North", which fits their family's Norwegian heritage very well.  This folding knife has a uniquely shaped blade designed for usability and precision, which is known for its quality throughout the world.  At Grimsmo Knives they manufacture extremely high quality custom pocket knives using the best materials available.  These guys pour love and dedication into each and every aspect of what they do - and it shows in their work - and have a blast doing it!  They've been at it since 2011, and if you search YouTube, they have hundreds of videos showing how they manufacture their knives.
This Norseman comes direct from Grimsmo Knives at the 2018 Blade Show.  It is #1135.  The blade is RWL-34 stainless steel, that has been both acid etched and tumbled.  The handle is 6AL-4V Titanium with a Honeycomb pattern, that has been anodized green with bronze flakes.  All the hardware has also been done in bronze.  This is a special piece.  Haven't seen many with this finish and a blade that is both acid etched and tumbled.  The blade has great flipping action, excellent detent, perfect blade seating, and rock solid lock-up.
Comes in the Grimsmo Knives plastic clamshell case, with Nano oil, T9 Torx driver, Grimsmo sticker, and signed Certificate of Authenticity.  Just as received from the 2018 Blade Show.
Condition: 
  New from the Makers                     
Overall length:    8 3/4"
Blade length:      3 3/4"

Handle length:    5"