GTC Gustavo Cecchini Plasma H/C (Hidden Clip), Stainless Damascus Inlay (SOLD)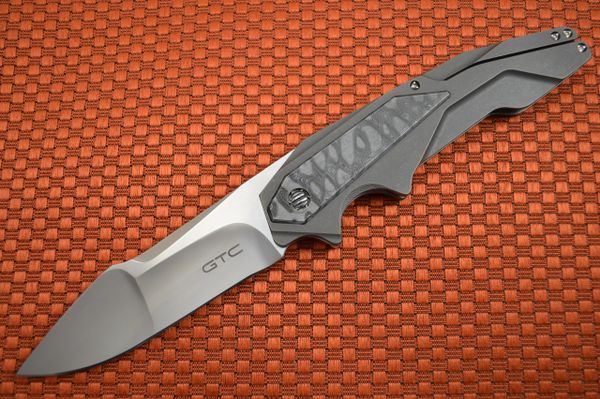 GTC Gustavo Cecchini Plasma H/C (Hidden Clip), Stainless Damascus Inlay (SOLD)
This GTC Plasma H/C (hidden clip) frame-lock flipper is a large folder, yet it has a thin profile and is easy to carry. The frame is bead blasted titanium, with highly figured, deeply etched Chad Nichols stainless Damascus inlays on both sides. It features GTC's way cool hidden pocket clip, which is designed similarly to a lock bar. The clip basically "hides" in the frame after being pulled out of your pocket. To clip it back in your pocket, simply pinch the frame at the tail-end and it "flexes", making the clip accessible. This allows for deep pocket carry. The multi-ground blade is made from CPM 154 stainless, and rides on GTC's bearing system. It is easily deployed with the flipper, using a "pull down" motion. It has a very secure, early lock-up - absolutely rock-solid with no blade play whatsoever. It exhibits excellent detent, and the blade is perfectly centered when closed. Comes in a GTC padded zippered case provided by the maker.
Condition: Previously owned. Mint Condition.
Never carried, used or sharpened.
Overall length: 9 1/2"




Blade length: 4"




Closed length: 5 1/2"