Hans Weinmueller Damascus "Buffalo Folder", Tail Lock with Stag Scales (SOLD)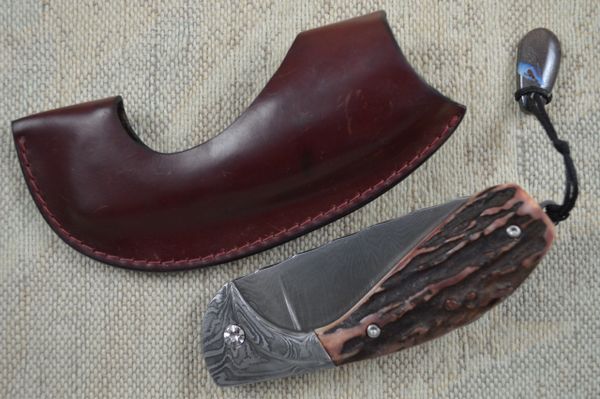 Hans Weinmueller Damascus "Buffalo Folder", Tail Lock with Stag Scales (SOLD)
This tail lock folder is Hans Weinmueller's Buffalo Folder. This is a very unique knife with a custom designed leather pouch, also made by Hans. The folded knife slips effortlessly into the sheath, exposing only the blade and the tail. The tail has a rope lanyard with a highly polished stone, which makes for easy removal from the sheath. You can just drop this one into your pants pocket. The blade is high carbon forged Damascus with a subtle pattern and smooth finish. The scales appear beautifully figured and matched red dyed Sambar stag. The pivot pins are file-worked, and there is file work running the length of the blade spine all along the back spacer and right to the tail lock. The bolsters are also Damascus, and have a sweeping "ridge" that follows the contour of the steel. The blade locks up tight with no play whatsoever, and the blade is seated centered in the liners when closed. Hans signed the knife "H. Weinmueller" on the tang, which leads us to believe that this was made prior to Hans relocating to Austria and while he was living in Arizona. And the sheath is signed "HW". The knife is in excellent condition to near mint condition. The blade has a few very light pepper spots that you cannot feel, but are accentuated under magnification by the camera and lighting - not uncommon with forged Damascus. They in no way detract from the beauty of this piece. The stag scales are perfect - not a crack or chip to be seen. It is a masterfully crafted knife with outstanding fit and finish. This is a very classy folder and sheath package that will definitely draw some OOHS and AAHS.
Condition:
Previously owned, Excellent condition (as noted)
Never used, carried or sharpened
Overall length: 6 1/4"

Blade length: 2 3/4"

Closed length: 3 1/2"