Hardcore Hardware Australia Desert Tan ASOT-01 Bundle (SOLD)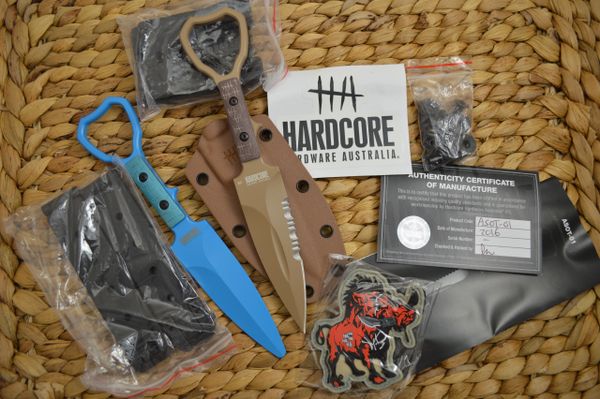 Hardcore Hardware Australia Desert Tan ASOT-01 Bundle (SOLD)
The Hardcore Hardware Australia® ASOT-01 is designed as a fast access, multi purpose CQB tool.  The distinct beveled ring design of the ASOT-01 enhances the tool's accessibility and comfort, making it exceptionally fast and easy to draw.  This feature also enables transition to a rifle or handgun with no disconnect between the tool and firearm.  The concave thumb recess at the top of the ring supports a positive grip, and the application of downward force. 
Unique to the ASOT-01 is its live edge identifier at the three quarter length of the handle.  This characteristic enables the user to quickly identify the position of the single-sided cutting edge by feel.  Ergonomic, textured G10 scales enhance the feel for a superior grip, and are equally comfortable in either dominant or support hand. 
Personalized mounting is critical for an instinctive and swift deployment.  Therefore the ASOT-01 Kydex® ambidextrous sheath comes with both Tek-Lok™ and Molle-Lok™ mounting options.  These can be customized for vertical, horizontal or angled wear.  The provision of eyelet holes along both sides of the blade carrier facilitate alternative attachment to the body or gear via paracord or cable ties.  A low profile design also allows the tool to be sandwiched between magazine/accessory pouches, or horizontally along the belt line to maintain optimum concealment and retention. 
Advantages of the ASOT-01 over conventional blades are its balance, size, versatility and strength.  It's superior power and reliability comes from the 6mm (0.236") D2 tool steel stock, which can withstand impact without loss of sharpness.  The razor sharp serrations also aid performance for more demanding cutting tasks. 
This Hardcore Hardware Australia® ASOT-01 Bundle Package includes not only a live edge ASOT-01 in Desert Tan, it also includes an ASOT-01 Trainer in HIVIS blue.  Also included in the original box is the Instruction / Care Manual, Hardcore Hardware Australia sticker, Authenticity Certificate of Manufacture, and raised rubber wild boar Velcro patch.

Condition:  
Previously owned. New. MINT.
                     Never carried, used or sharpened
Overall length:   7 3/4"
Blade length:      4"
Handle length:    3 3/4"