Harley-Davidson 90th Anniversary Mastadon Ivory Dagger #43 of 500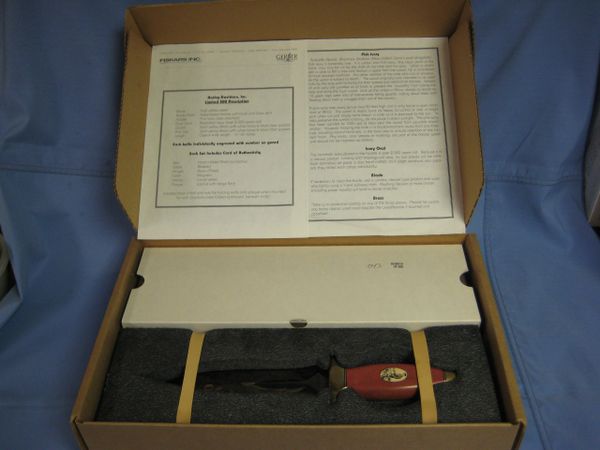 Harley-Davidson 90th Anniversary Mastadon Ivory Dagger #43 of 500
Harley-Davidson Limited Edition 90th Anniversary Dagger made by Gerber Legendary Blades to commemorate The Motor Company's 90 years in business in 1993. There were two versions of this knife that were made for the 90th. There was a version with a walnut handle of which 3000 were produced. And this limited edition version with Pink Ivory wood handle, and Mastodon Ivory oval inlay with scrimshaw depicting one of the first motorcycles and a rider. There were only 500 of these produced, and this one is a very low serial number 043! The knife comes in the original box with all the manufacturer's documentation. It includes a hand rubbed American Walnut display case with beveled glass, 3 brass hinges, magnetic catch, camel velvet interior, and a walnut with beige flock plaque. It also includes brass u-bolts and nuts for holding the knife onto the plaque when mounted on the wall.

The blade is high carbon steel, finished in a deep blued chrome with gold and silver etch. The handle is pink ivory wood, the oval scrim is Mastodon Ivory (over 2,000 years old), the guard is solid yellow brass, and the butt cap is solid yellow brass. The guard is beginning to develop some patina from age. It can easily be cleaned up with some metal polish (careful not to get it on the wood or ivory). There is also the Certificate of Authenticity, a spec. sheet, and a full detailed description of the material components used to construct the knife.

The knife is approximately 13 1/2" in overall length, and the blade is approximately 7 3/4" long. If you ride a Harley and collect Harley memorabilia, you have got to own this rare knife.