Harvey Draper "Cougar" Hunting Knife and Tooled Leather Sheath (SOLD)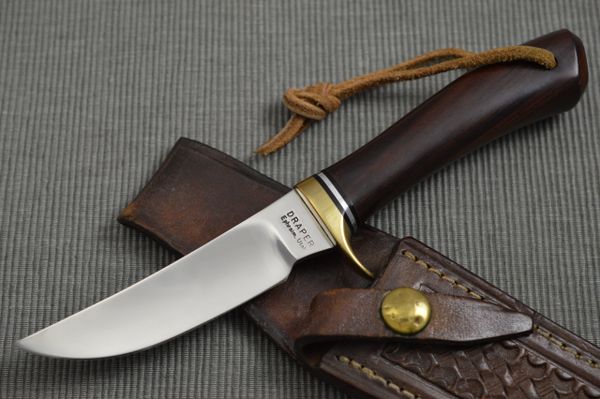 Harvey Draper "Cougar" Hunting Knife and Tooled Leather Sheath (SOLD)
Harvey Draper made his last knife in 1982.  That same year, a tragic plane crash took the life of one of Utah's most famous knifemakers, and one of the most respected knifemakers in the industry.  Harvey raised his family in Ephraim, UT.  In 1965 a man named Gil Hibben moved to Manti, UT, where later in the year Harvey was hired by Gil to make knives with the Hibben mark.  The Utah School of knifemaking had begun.  It would influence knifemakers for years to come.  Harvey story has a rich history of knifemaking and knifemakers.  In addition to Gil, some of those makers include, but are not limited to, Steve Johnson, Rod Chappel, A.G. Russel, Bob Loveless and Buster Warenski.  To read the comprehensive story and tribute to Harvey, visit 
HARVEY DRAPER REMEMBERED
 on the Harvey Draper website.
Around 1966, Harvey along with his son Bart, and his friend and relative, Bruce Draper, started the Draper Knife Shop in Ephraim, Utah.  The blades were stamped "DRAPER" over "Ephraim, Utah", and most sheaths were unmarked, but later marked with "Draper Inc., Ephraim, UT".  With this information, I am guessing that this knife, having the same blade stamp and unmarked tooled leather sheath, dates to sometime around 1966/67.  Further, based on photos on Harvey Draper's website, I believe this hunting knife to be a variant of the "Cougar" model.  Evidence of this is the upswept blade, single finger guard, and contoured handle.  The blade is polished 440C steel, and the handle looks like it could be either Cocobolo or Desert Ironwood.  The single finger guard is brass, and there are several spacers between it, and the handle.  The handle also sports a lanyard hole, with a rawhide lanyard.  This knife was previously owned, and in excellent, unused condition.  The blade looks perfect.  The brass guard has a bit of a patina, and the wood handle has a couple of small, shallow dings.  The sheath has darkened from age, there is some "greening" around the brass snap, and the snap head has some dents (but works fine).  I will also include a padded, zippered case for storage.
Condition:  Previously owned.  Excellent.
                    Never used, carried or sharpened
Overall length:       8 1/4"

Blade length:         4"
Handle length:       4 1/4"