Heretic Knives, Marfione MARTYR, Carbon Fiber, Double Clad Steel, Blue Hardware (SOLD)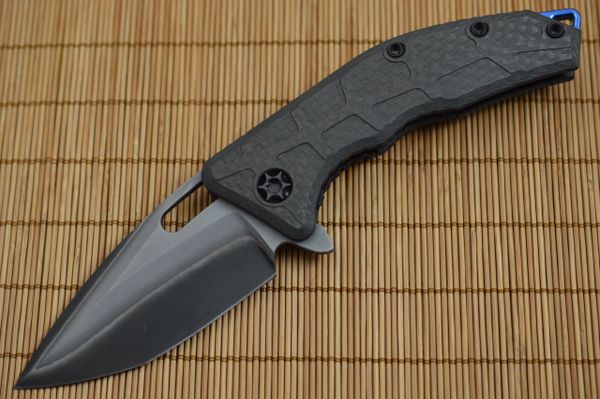 Heretic Knives, Marfione MARTYR, Carbon Fiber, Double Clad Steel, Blue Hardware (SOLD)
Heretic Knives was founded in 2015 by Anthony Marfione and his wife Jessica. Anthony is a second generation knifemaker, applying the knowledge that has been passed on to him. His goal is to bring designs and certain elements to the craft of knifemaking that haven't been tried before. The company pledges that every knife that leaves their facility is an impeccable work of art that is sure to impress. In fact, all of the knives that leave the Heretic shop are hand ground by Anthony, whether it is a custom knife or a factory model. Windy City Knives is privileged to be an authorized dealer for Heretic, and is proud to offer their knives.
Brand New and direct from Anthony and his team is this Martyr flipper, with a patent pending hybrid liner-lock. The blade is CPM-154, with a double clad finish. In addition to the flipper tab, the knife also features an oval thumb hole. The handle is carbon fiber, and the backspacer and pocket clip are anodized blue. Developed with comfort in mind, the ergonomic handle, whether held in the reverse grip or held regularly, feels like an extension of your hand rather than holding just another knife. Each blade is hand ground, hand sharpened, and hand assembled to give the end-user a custom feel in a production knife. Also riding on GTC race bearings, the Martyr will be the work horse you're looking for. This knife is model H009-DC, with Serial #018 of a limited production run. The lock-up is rock solid, and the blade sits perfectly centered in the frame. It comes in a drawstring Heretic pouch, and the original Heretic Knives box.
Condition: Brand New From Maker.
• Overall length: 7 5/8"
• Blade length: 3 1/4"
• Closed length: 4 1/2"