Heretic Knives WRAITH Flipper, Battleworn Blasted CPM-154, Breakthrough Red Frame (SOLD)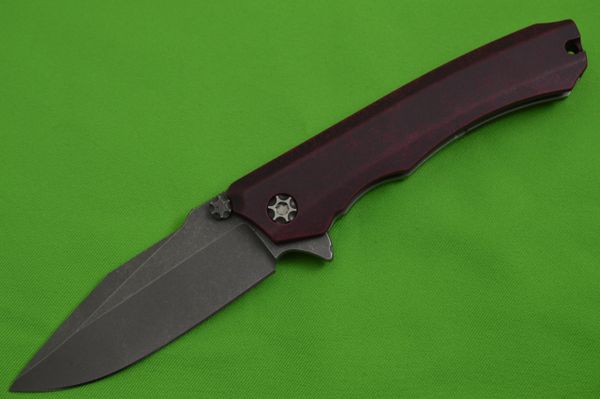 Heretic Knives WRAITH Flipper, Battleworn Blasted CPM-154, Breakthrough Red Frame (SOLD)
Heretic Knives was founded in 2015 by Anthony Marfione and his wife Jessica.  Anthony is a second generation knifemaker, applying the knowledge that has been passed on to him.  His goal is to bring designs and certain elements to the craft of knifemaking that haven't been tried before.  The company pledges that every knife that leaves their facility is an impeccable work of art that is sure to impress.  In fact, all of the knives that leave the Heretic shop are hand ground by Anthony, whether it is a custom knife or a factory model.  Windy City Knives is privileged to be an authorized dealer for Heretic, and is proud to offer their knives.
Brand New and direct from Anthony and his team is this Wraith frame-lock flipper.  The Breakthrough Red handle is constructed of one solid piece of hard coat anodized 6061-T6 aircraft aluminum, making for a ridged sleek and solid design.  As with each Heretic design, the Battleworn Blasted blade is hand ground, with precision, to a multitude of finishes.  Riding on GTC race bearings, opening and closing are as smooth as glass.  The blade flips effortlessly - no wrist action needed.  And the blade has an easy lock release.  The signature double pronged pocket clip with two free floating roller ball bearings will glide in and out of your pocket with ease.  This knife is numbered H001-5A-BRKRD.  The lock-up is rock solid, and the blade sits perfectly centered in the frame.  It comes in a drawstring Heretic pouch, and the original Heretic Knives box with all the packaging.  
Condition:  Brand New From Maker.
•           Overall length:  8 5/8"
•           Blade length:    3 3/4"
•           Closed length:  5"