HiCaliber Designs Thin Blue Line Nickel Plated 45 ACP / 40 SW Stainless Beaded Chain Necklace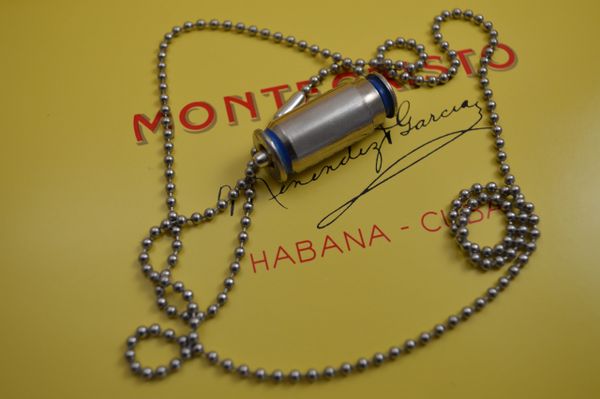 HiCaliber Designs Thin Blue Line Nickel Plated 45 ACP / 40 SW Stainless Beaded Chain Necklace
HiCaliber Designs is an Illinois company, specializing in up-cycled brass bullet jewelry. I found these folks at my gun range. The owner was wearing both a necklace and bracelet, and they were getting a lot of attention from both law enforcement and civilians. Everything they make is handmade from spent, brass bullets, so it is expected to see nicks, scratches, dings and dents in the casings. That is what adds to the uniqueness of each piece. And overtime, you will see a patina develop with wear, enhancing the distinctiveness of each piece. The bullet pairings (calibers) will vary in each piece. Bullets can be blackened or nickel plated, with our without blue lines, and the 2.3 mm ball chain used for the necklaces or bracelets can be black or stainless. There are also those pieces threaded with leather, or braided leather. These can be worn by a man or a woman. And if you know someone who is Law Enforcement, or into responsible handgun training, these are the perfect gift. What else do you get for the shooter who has everything? And please feel free to contact us with any custom requests. The company would be glad to accommodate almost any configuration.
This necklace features nickel plated cartridges from both .45 ACP and .40 S&W bullets. There are thin blue lines hand-painted just above the rims of both rounds. The stainless steel bead chain is 27" in overall length.
This ships for FREE, by USPS First Class Mail.
PLEASE NOTE THAT THESE ARE NOT INTENDED FOR FIREARMS USE.