IWASAKI Japanese Kamisori Straight Razor, Sheath, Presentation Box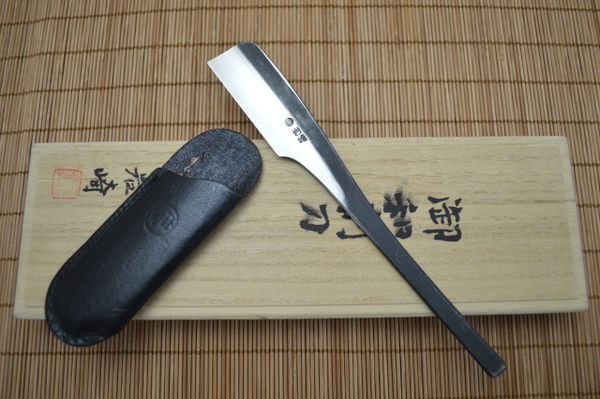 IWASAKI Japanese Kamisori Straight Razor, Sheath, Presentation Box
An impressive razor made by a famous house, this Iwasaki Japanese Kamisori Straight Razor will be highly coveted for its intuitive feel and close shave. Made of Swedish Sandvik Carbon Steel (carbon content 1.25% - 1.28%) with a Japanese grind, the handle feels secure and balanced in the hand, and can be used by gentlemen who are either right or left handed. The edge contrasts with the softer, darker metal comprising the handle and spine. Offered in a wooden presentation box, along with a leather slip pouch, this razor is highly rated in the forums and reviews, and is certain to become one of your favorite shaving tools. It is highly sought after by Japanese razor connoisseurs. Iwasaki razors have earned an enviable reputation over the years, throughout the world.
This razor is made in Sanjyo City, Nigata, Japan. It is previously owned, but never used. Couple of small scuffs on the black sheath from inserting and removing the razor. It is literally "scary sharp". If you are into wet shaving with a straight razor, this is a great piece. Give it as a gift to that favorite shaver in your life!
Condition:
Previously owned, Excellent.
Never used or sharpened
Overall length: 6 1/8"

Blade length: 2"
Handle length: 4 1/8"
Weight: 1.6 ounces