Jack Busfield Pearl Lock-Back Folder, Steve Lindsay Engraving (SOLD)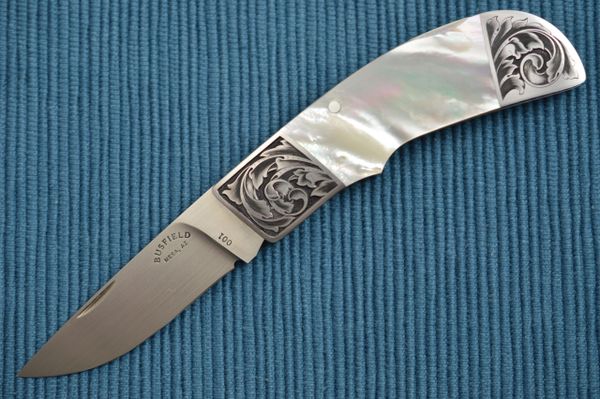 Jack Busfield Pearl Lock-Back Folder, Steve Lindsay Engraving (SOLD)
This Jack Busfield Pearl Lock-Back Folder with engraved bolsters done by artist Steve Lindsay has been in the hands of one collector since 2004, prior to just recently being acquired by Windy City Knives.  It is in near mint condition, with only the slightest evidence of swirls on the blade tang from opening and closing the knife, due to the fact that Jack did not relieve the liners.  According to an email from Jack to this collector, dated May 2004, this knife was made in 1981 for a lady friend of Jack's good friend and mentor Larry Hendricks, who lived near Jack in Mesa, AZ.  After Jack left AZ in 1986, Larry Hendricks, a very accomplished knifemaker, became a very accomplished engraver and sculptor, who didn't start engraving until he was in his mid sixties.  Larry passed away in 1987.  The knife stayed in the possession of Larry's lady friend until about 2002 / 2003, when she finally sold it to a collector as her health was failing.  The most recent owner then acquired it from that collector in 2004.  The knife has great provenance.  And a copy of Jack's email (with addresses redacted) will be provided to the new owner.
Further, according to Jack's email, the blade is made from 440C stainless steel, and the bolsters are silver brazed 416 stainless steel.  It was probably one of the last knives that Jack made with silver brazed bolsters, as he started milling his frames at about the same time.  The pearl scales are beautiful, with rich colors and depth.  The knife's tang is marked number 001.  Jack's email also states, if he were to have made this knife in 2004, it would cost over $1,000 and the pearl would not have been as good as what is on the knife.  The engraving on the bolsters that was all done by Steve Lindsay, Jack estimates in his email would have cost $3,000 - $4,500 in 2004.
The knife has a small nail nick, with a smooth, easy pull.  It locks up tight with no blade play or wobble in any direction, and the blade seating is just about centered.  What a great, early example of both Jack and Steve's work.  This is a rare and very collectible piece, that would surely be the centerpiece of most collections.  Jack does not attend shows these days, and no longer takes orders.

Condition:  Previously owned.  Near mint.
                      Never used, carried or sharpened
Overall length:  5 1/4"

Blade length:    2 1/8"

Closed length:  3 1/8"