Jake Hoback A15 Frame Lock Flipper Folding Knife, LSCF (SOLD)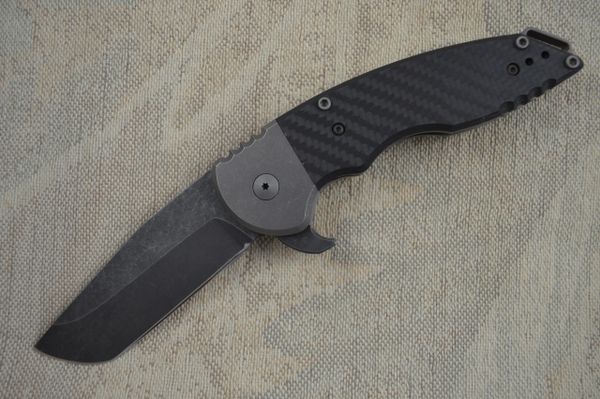 Jake Hoback A15 Frame Lock Flipper Folding Knife, LSCF (SOLD)
A rare, and almost impossible to find Jake Hoback model A15. This is the largest of Jake's folders, and built to be a tank / workhorse. It features Jake's CBP (caged bearing pivot), and
HRD (Hoback roller detent) system.
The blade flies open as smooth as can be, and locks up tight as a bank vault. It features Jake's bolster / frame lock, and stonewashed finish on the blade and bolsters. We were told that the blade is CPM -3V. We love the new design of the pocket clip with Jake's tomahawk logo. You'll also find the tomahawk T on the blade. And check out the highly detailed custom pivot, with Psalm 23 engraved around it. The scales are lightning strike carbon fiber. The fit and finish on this piece is outstanding. To call this knife overbuilt is an understatement.
Condition:
Previously owned. Near mint
Never carried, used, or sharpened.
Overall length: 9 1/4"

Blade length 4"

Closed length: 5 1/2"