Jake Hoback Custom Damascus Kwaiback, Frag Pattern Monkey Edge Exclusive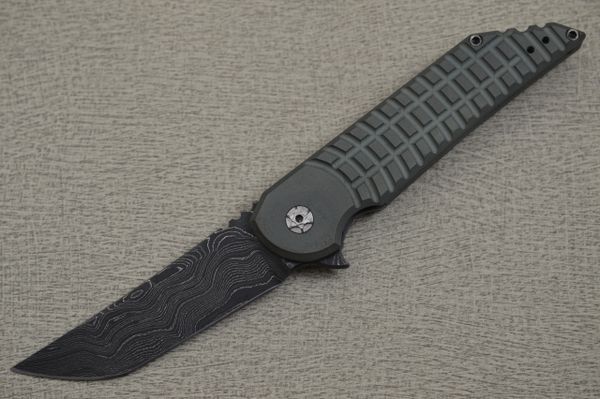 Jake Hoback Custom Damascus Kwaiback, Frag Pattern Monkey Edge Exclusive
Hoback Knives - My Commitment To Quality...
"Every Jake Hoback knife is crafted of the finest, most durable materials.  Rugged, Reliable, and Precision-Engineered.  Made for hard work, my knives are built to be tools, not just trophies!  My knives are built to last.  If your knife is defective due to materials or workmanship, please return it for repair.  Your knife will be repaired at no charge, including parts and labor.  If repair is not possible or practical, your knife will be replaced with the same or a comparable model."
Windy City Knives is a proud member of the Jake Hoback Knives authorized dealer network.
This folder is a Custom Jake Hoback Damascus KWAIBACK, with a Frag Pattern frame-lock handle, done exclusively for Monkey Edge.  This knife has long since sold out, at a price of $1749.00.  The blade is custom, hand ground Alabama Damascus, and the full titanium frame has Monkey Edge's frag pattern texture on both sides, with a recessed titanium backspacer.  The entire handle is finished in Hoback's proprietary matte OD Green process.  The inside of the scales have been "hollowed out" to reduce the weight of the knife to a mere 5.6 ounces. The knife also features Jake's Hoback Rolling Detent (HRD) system, replaceable AEB-L hardened steel lock-bar insert, and custom machined pivot with caged bearing system.  It flips fast and effortlessly.  It locks up tight with no play, has an easy lock release, and the blade sits perfectly centered in the handle.  The knife comes in a Hoback Knives leather case.
Condition:  Previously owned.  Mint condition.
                  Never used or sharpened.
•           Overall length:  9"
•           Blade length:    4"
•           Closed length:  5"