Jake Hoback/Alphahunter Black Stallion WarHorse Flipper Folder, DLC Black, Satin Flats (SOLD)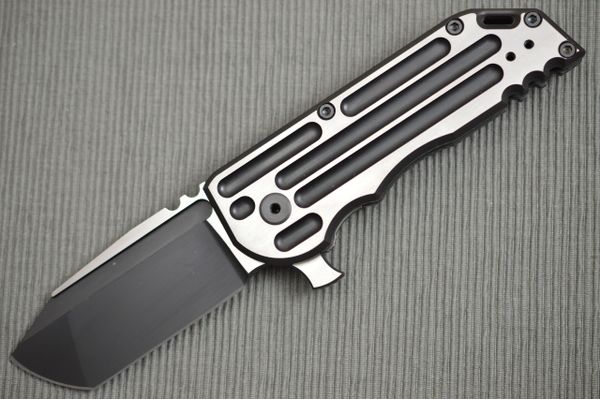 Jake Hoback/Alphahunter Black Stallion WarHorse Flipper Folder, DLC Black, Satin Flats (SOLD)
From the Hoback Knives website:
"A few years ago I had been making folders for about 2 years when, in 2011, Chad of Alphahunter Tactical Design approached me about a project. That project was the WarHorse -- a honkin' huge knife with a full 4" blade and massive slabs of .200 thick titanium! Chad and I went back and forth on design parameters for a few days, and the original WarHorse was born. We did several different variations on the design and even did a mini-flipper version. The design was amazingly popular, and we sold out of each run we made within days. A few years went by and Chad and I kept busy growing our respective businesses and doing other things on our own. All along, though, I've wanted to get back with him and make another run! Today, I'm proud to announce that Chad and I arranged our schedules to collaborate once again on another run. Plus, I pulled out all the stops in a redesign of the knife! I ran a full FEA (Finite element analysis) on it to check for any weak spots. Pocketed all non-structural components to get the weight down. Did a ground-up design of a perfect hardened lock insert. Even did a full Bio/Organic 3D machined semi-floating backspacer. Added my HRD (Hoback Roller Detent), HCP (Hoback Cammed Pivot), and hardened stainless bearing races. The result? A brand new WarHorse Chad has dubbed the "Black Stallion"!"
Key features include:
Hardened Stainless Lock Insert

Hardened Stainless Bearing Races

Full Bio/Organic 3D Machined Backspacer

Redesigned Ergonomics for Comfortable Hard Use

Full Internal Lightening Pockets

Proprietary Hoback Cammed Pivot

Integrated Lanyard Slot

Full FEA (Finite Element Analysis) for Complete Design Integrity

Pivot Thrust Bearings

Hardened Stainless Bearing Races

HRD (Hoback Roller Detent)

Hardened Stainless Steel Lock Insert With Overtravel Prevention

Engineered Internal Lightening Pockets

Standard Sizes On All Screws For Ease Of Replacement

DLC Coated
Windy City Knives is a proud member of the Jake Hoback Knives authorized dealer network.
This Black Stallion WarHorse frame-lock flipper has a 0.1875" thick CPM Cru-Wear blade, and titanium handle frame with fullers on both sides. Both have a DLC Black finish, with satin flats. The knife has great flipping action, locks up tight with no play, releases easily from the frame lock, and the blade sits perfectly centered in the handle. The knife weighs a mere 6.0 ounces. The knife comes in a generic padded, zippered case provided by JHK, with Jake's certificate and wrenches.
Condition: Brand New From Maker.
Overall length: 7 3/4"

Blade length: 3"

Closed length: 4 3/4"