James Scroggs "On Your Six Fighter", Warwood Handle, Spec-Ops Sheath (SOLD)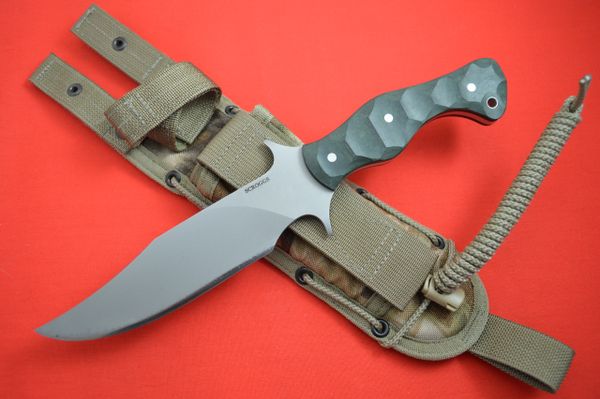 James Scroggs "On Your Six Fighter", Warwood Handle, Spec-Ops Sheath (SOLD)
This James Scroggs "On Your Six Fighter" is new, and direct from James' shop in Warrensburg, MO.  James is an accomplished fixed blade knifemaker, who made his first knife in 1985.  He produces his own designs.  He prefers to use high-end woods and materials for knife handles.  This knife features a CPM 154 stainless steel blade that has been heat treated by Peters.  The blade has a pearl grey bead blasted finish.  The handle scales are made of sculpted, deep green Warwood.  Warwood is a man-made material derived from corn and corn stalks.  Originally developed as the third layer of armor plate for the U.S. military.  It has also been used under Humvees as protection from IEDs.  It is tough stuff!
James includes a high grade ballistic nylon Spec Ops sheath with the knife.  There are some minor marks on the blade from insertion and removal from the sheath.  No case is included.

Condition:  New from the Maker
Overall length:  11 1/2"
Blade length:     6 1/4"
Handle length:   5 1/4"