Jason Knight, M.S. Large Bowie Knife, W-2 with Hamon, Koa Wood Handle (SOLD)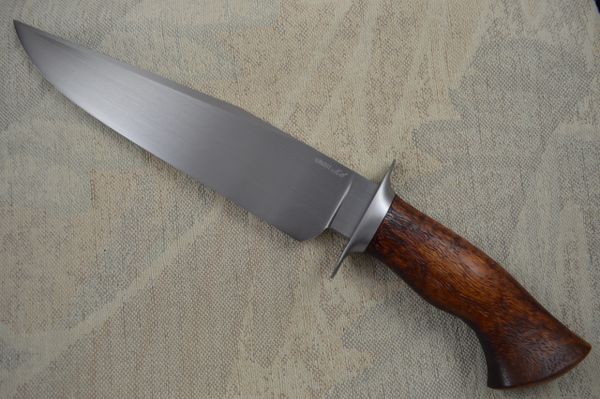 Jason Knight, M.S. Large Bowie Knife, W-2 with Hamon, Koa Wood Handle (SOLD)
This is one of Jason Knight's outstanding and highly desirable Mastersmith Bowie knives. Jason became a full-time knifemaker in 2001, and earned his Mastersmith rating from the ABS in 2007. Jason is on a fast track to be one of the greatest - he's already one of the best. He has received a multitude of awards as both a Journeyman Smith and Mastersmith. He is currently the only Mastersmith from South Carolina. He teaches everything from forging steel and Damascus, to designing knives, grinding, and making handles and guards. He is best known for his Bowie knives and Fighters.
This Bowie features a forged carbon steel blade made of W-2 (the top clip is not sharpened). Jason feels that W-2 is the best steel for holding an edge, as well as its toughness. It also has a subtle Hamon (temper line) on both sides of the blade. The guard is made of nickel silver. The handle is a block of gorgeous, highly figured and textured Koa Wood from the Acacia Koa tree indigenous to Hawaii. You really have to see it and hold it in your hand to appreciate it - it melts in your palm! The weight and balance are perfect. The knife was purchased by the original, and only owner, directly from Jason at the 2014 Blade Show. It is in near mint condition. In the interest of full disclosure, I found a carbon spot the size of a pencil point on each side of the blade - they won't photograph, they are that small. You have to look for them, to find them. There is no sheath. It will come shipped in a padded, zippered case.
Condition:
Previously owned. Near mint.
Never carried, used or sharpened
Overall length: 14 3/4"

Blade length: 9 1/2"