Jason Ritchie Medium Tony Bose Stag Backpocket Slip-Joint Folding Knife (SOLD)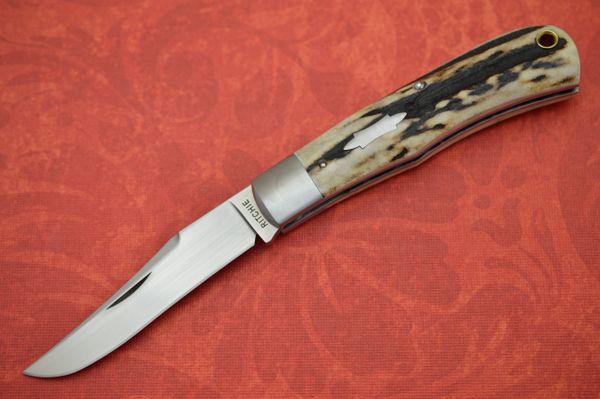 Jason Ritchie Medium Tony Bose Stag Backpocket Slip-Joint Folding Knife (SOLD)
Jason Ritchie is from Hanover, Illinois. He is a former Marine and has spent the last 20 years as a full-time Railroad Signalman.  As a part-time traditional slip-joint knifemaker, he built his first knife in 2020.  Jason got started in the knife industry by doing production knife handle modifications to Case and Great Eastern Cutlery knives a year earlier.  To look at and handle one of Jason's knives you would never know he has only been making knives for a couple of years, let alone the fact that he is self-taught.  His work is that of a much more experienced knifemaker. Jason draws his inspiration from the late, great Tony Bose, as well as from Reese Bose.  His attention to detail and fit-and-finish are testament to his commitment to his craft.  Jason is one of those new makers who should be on every slip-joint collector's radar.  Windy City Knives is privileged to work with Jason.
This is Jason's medium Backpocket, a slightly scaled-down version of Tony Bose's original Backpocket pattern.  The blade is Magnacut stainless steel, hand ground, with a hand satin finish.  The blade has been cryogenically treated and tested at 62 HRC.  The liners, bolster, gimp shield and pins are all 410 stainless steel.  The scales are two nice slabs of nicely-matched Premium Stag.  There is an ample nail nick cut below the swedge.  There is no play in the blade in the open position, and it sits centered between the liners when closed.  Nice walk and talk too!  Included with the knife is a Horween Leather slip made by HW Leather, and Jason's signed COA.

Condition:  New from the Maker
Overall length:   7"

Blade length:     3"

Closed length:   4"