Jason Stout SILVERA, Wharncliffe, Frame-Lock Flipper, Blade Show 2017 Lottery (SOLD)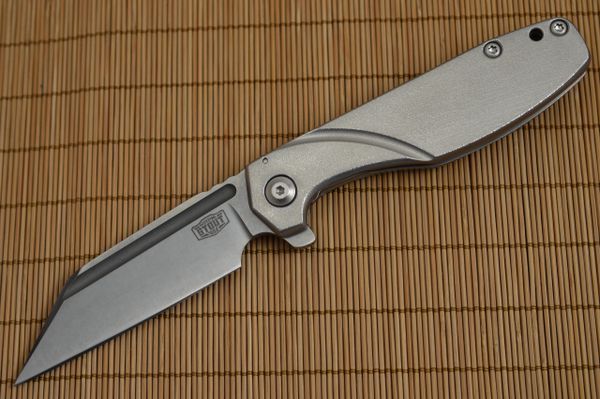 Jason Stout SILVERA, Wharncliffe, Frame-Lock Flipper, Blade Show 2017 Lottery (SOLD)
This Silvera is brand new, and direct from Jason Stout's lottery at the 2017 Blade Show. Jason is a full-time knifemaker, and he is currently not taking orders. If you are fortunate, they are "earned" at show table lotteries and on-line lotteries...or in the secondary market. It features a lightly tumbled D2 Wharncliffe blade with fuller running the entire length of the top part of the blade on both sides. The Silvera is a frame-lock. The handle is textured titanium, carved so that it looks like it flows from the rear of the fuller. The handle has a very similar profile to Jason's Lateralus model. The backspacer is raised titanium, and the pocket clip is also textured titanium. There is some jimping on the rear of the blade spine, for better grip and control. The knife has great lines, clean and crisp. The blade flips effortlessly - smooth and with authority. The detent is perfect. The lock-up is rock solid, and the blade is perfectly centered. It will come shipped in a padded, zippered case with a JB Stout Knife & Tool card that was provided with the knife.

Condition: Brand New From Maker. MINT.
Overall Length: 8 1/4"

Blade Length: 3 1/2"

Closed Length: 4 3/4"