Jay Hendrickson, M.S. Clip Point Hunter, Curly Maple, Silver Wire Inlay (SOLD)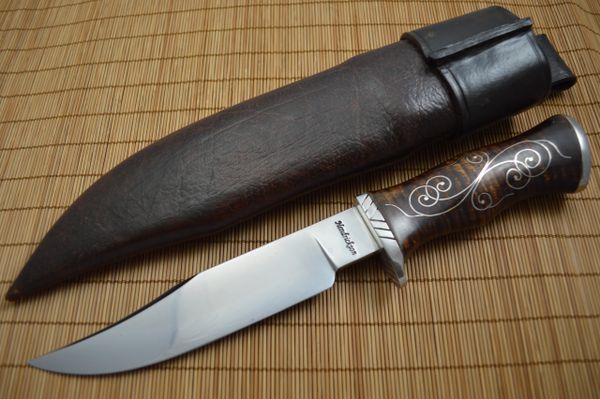 Jay Hendrickson, M.S. Clip Point Hunter, Curly Maple, Silver Wire Inlay (SOLD)
This Jay Hendrickson, Mastersmith clip point, upswept hunting knife was made in 2015.  Except for the single finger guard, some might call this a small Bowie knife.  The knife is on consignment from the collection of another world renown Mastersmith.  He acquired it directly from Jay, and it has been in his collection since.  Being a Mastersmith himself, the knife was well cared for, and stored properly.  Except for some slight evidence of sheath rubs on the sides of the guard, the knife is in excellent, unused condition.  This Mastersmith is "thinning" out his collection, and Windy City Knives is honored to have been appointed as his chosen purveyor.
The blade is hand forged 1084 steel, with a hand rubbed satin finish.  The clip point top edge has not been sharpened.  The handle is presentation grade Curly Maple with fine silver wire inlay on both sides.  The single finger guard and butt cap are both Nickel Silver.  The guard has been file-worked on both sides, as well as on the top.  The knife has great lines, is well balanced, and feels great in your hand.   It is in unused condition.  The knife comes with a beautiful Kudu (or Buffalo) pouch-type belt sheath made by Jay.  This one would be a great addition to any collection.  Jay's knives are well-respected among both makers and collectors.

Condition:  Excellent Condition
                    Never used, carried, or sharpened
Overall length:     11"

Blade length:        6 1/2"
Handle length:      4 1/2"