Jay Hendrickson, M.S. Clip Point Hunter, Curly Maple Silver Wire Inlay, Stag (SOLD)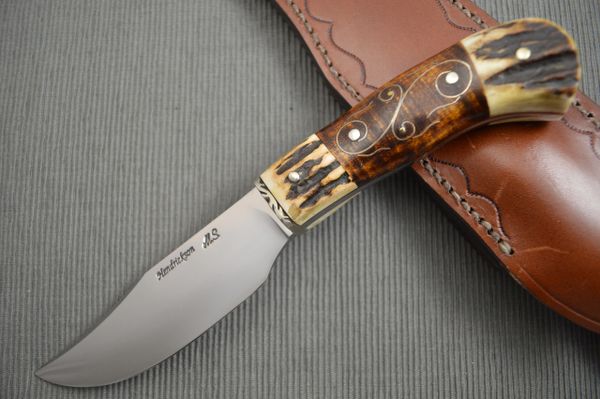 Jay Hendrickson, M.S. Clip Point Hunter, Curly Maple Silver Wire Inlay, Stag (SOLD)
This Jay Hendrickson, Mastersmith clip point, upswept hunting knife was made in 2008. The knife is on consignment from the collection of a prominent member of the American Bladesmith Society (ABS). He acquired this piece directly from Jay, and it has been in his collection since. He clearly knows how to care for, and properly store a knife. He is "thinning" out his collection, and Windy City Knives is honored to have been appointed as his chosen purveyor.
The blade is hand forged 5160 steel, with a hand rubbed satin finish. The clip point top edge has not been sharpened. The handle is presentation grade Curly Maple with fine silver wire inlay on both sides. Forward and Aft of the curly maple are some gnarly pieces of stag. There is no guard. but there is a nickel silver collar or spacer, with file-work on either side. The blade has a "Moran Edge", or what Bill Moran referred to as an apppleseed shape / grind - a hallmark of Jay's work. This is a slightly convex profile, extending to the back of the blade, with the radius of curvature gradually decreasing toward the edge. This seemingly gives the best possible edge for general use. The slightly wider angle at the edge gives the effect of a secondary bevel. The smooth transition to the nearly parallel sides of the blade causes minimal resistance moving through the medium being cut. The edge can be made very keen, but is still durable. A clear differential heat treatment line travels along the blade, showing the transition between the soft, supportive spine and the keen, hard edge. The blade is stamped "Hendrickson M.S.". The knife has great lines, is well balanced, and feels great in your hand - the handle is nearly 1" across, filling the palm of your hand and affording great control of the knife. It is in unused, excellent condition, with nothing more than a fine sheath line. The knife comes with a beautiful leather pouch-type belt sheath made by Jay. This one would be a great addition to any collection. Jay's knives are well-respected among both makers and collectors.

Condition: Excellent, Near Mint condition
Never used, carried, or sharpened
Overall length: 8 7/8"

Blade length: 4 3/4"
Handle length: 4 1/8"