Jay Hendrickson, M.S. Dream Catcher Bowie, Curly Maple Sheath (SOLD)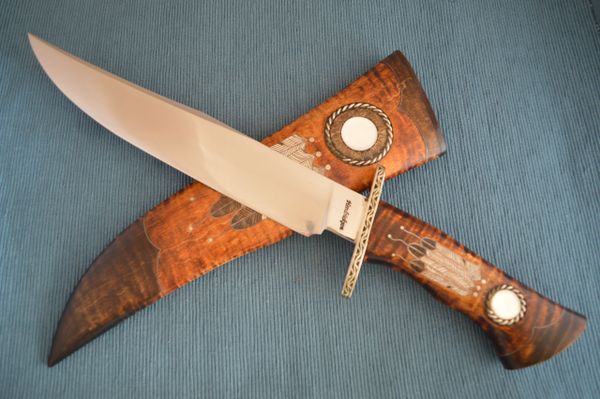 Jay Hendrickson, M.S. Dream Catcher Bowie, Curly Maple Sheath (SOLD)
This is a classic Jay Hendrickson, Mastersmith, Dream Catcher Bowie.  
The blade is hand forged 5160 steel, with a hand rubbed satin finish.  The handle is presentation grade Curly Maple with inlaid Dream Catchers on both sides.  The Dream Catchers' feathers are outlined in fine silver wire inlay.  There is a large inlaid Mother of Pearl "web", bordered by a twisted silver wire inlaid "hoop".  The "butt" of the handle is darker Curly Maple, and separated from the lighter colored portion by fine silver wire.  The guard is nickel silver, and there is beautiful file-work around the entire perimeter.  The matching sheath is lined Curley Maple, and like the handle has darker Curly Maple at both the throat and tip.  Both darker areas are separated from the lighter wood by fine silver wire.  The sheath has an inlaid Dream Catcher on the presentation side only, but on a larger scale.  Similar to the handle, the feathers are bordered by fine silver wire, with a pearl web and twisted silver wire hoop.  However, there is fine silver wire bordering the pearl, resembling the rays of the sun.  The blade is stamped "Hendrickson" on one side of the ricasson and "M.S." on the other side. The knife has great lines, is well balanced, and feels great in your hand.  It is in unused, excellent condition, with nothing more than a small carbon spot where the ricasso meets the guard, on the Hendrickson side.  This one would be a great addition to any collection, perhaps the centerpiece.  It will also include a padded, zippered Bill's Custom Case for storage.  Jay's knives are well-respected among both makers and collectors.

Condition:  Excellent, Near Mint condition
                    Never used, carried, or sharpened
Overall length:      15 1/2"

Blade length:        10"
Handle length:      5 1/2"