J.E. Made "New York Special" Slip-Joint Folding Knife, OD Green G10 Inlays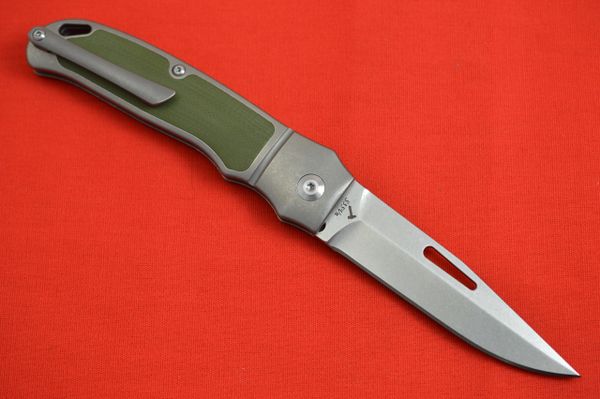 J.E. Made "New York Special" Slip-Joint Folding Knife, OD Green G10 Inlays
This J.E. Made New York Special pattern slip-joint folder features a stonewashed premium Crucible CPM S35VN stainless steel, clip point blade with false top edge, and a "cut out" long pull. The clip point in conjunction with the false top edge provide a strong piercing point, and the mid-level grind offers a good combination of durability and cutting performance. The S35VN steel, Rockwell Hardness 60-61 HRC, offers optimal edge retention and corrosion resistance for everyday use. The long open pull makes it easy for both right-handed or left-handed users, and can be opened without your nail, with two fingers. The handle scales are smooth 6AL4V titanium, with OD Green inlays on both sides, and a large Torx pivot and two Torx screws. The backspring is 416 stainless steel. There is also a generous lanyard hole in pommel. The blade has a half stop, moves on brass washers, and is flush in all positions. The blade is centered between the liners when in the closed position, and the blade is rock solid when opened. Nice walk and talk. Come securely packed - no case or box.
PLEASE NOTE

: As of the initial posting on 6/24, there are two (2) available with pocket clips, and one (1) without a pocket clip. Pictured is the pocket clip variant. You MUST contact me when you purchase this knife and let me know if you want one with, or without the pocket clip. If you fail to let me know, I will contact you. They are the same price. I will update this note as these begin to sell.
Condition: New from the Maker.
Overall length: 7 1/2"

Blade length: 3 1/4"

Closed length: 4 1/4"