Jeff Hall Liner Lock Gent's Folder (SOLD)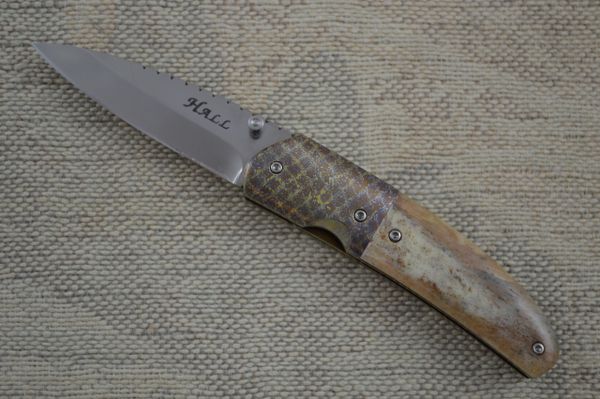 Jeff Hall Liner Lock Gent's Folder (SOLD)
Jeff Hall has been making knives since 1998, establishing himself as one of the top designers and makers of both folding and fixed blade knives. He is known for his tactical knives, and beautiful and functional custom designs. He is also known for his mid-tech line of knives - Nemesis Knives. Jeff also makes outstanding higher-end, custom knives from the finest materials and construction.
This gentleman's liner lock folder features a satin finish CPM-154 blade, Giraffe bone handle, Damasteel bolsters, thick liners, thumbstud for easy opening, and file-work along the length of the handle's blued titanium backspacer, as well as file-work along the spine of the blade. A very clean and elegant folder. Smooth action with a nice detent. The blade locks up tight with no play, and is perfectly centered when closed. Excellent fit and finish.
Condition:
Previously owned. Mint.
Never carried, used, or sharpened.
Overall length: 5 1/8"

Blade length: 2 1/8"

Closed length: 3"